The best coffee makers for camping are hard to find without a bit of help from those who know. In fact, not all camping coffee makers are created equal, and different types work for different purposes.
Types of camping coffee makers
Propane powered: A propane powered coffee maker is the ultimate all-in-one tool for making coffee while camping. With all other types of camping coffee makers, an outside source of heat is needed in order to boil the water. But with the propane powered coffee makers featured in this review, not only does propane do all of the work, the propane tank lights up its flame with the flick of an on-off switch. This means that you don't even need to light a match. Propane tanks are fairly cheap and usually last an entire season of coffee making.
Portable espresso machine: This type of portable coffee maker is one of our favorites; we do love our espresso! A portable espresso machine makes one shot of espresso and weighs only around 10 pounds. This means that you can carry it with you wherever you go. Not only can you take it with you in your backpack while hiking, you can also take it with you to work in the morning. Portable espresso machines tend to work just as well as larger espresso machines. Simply pump up the pressure as if using a bicycle pump (which is super easy) and add fine ground coffee or E.S.E. pods.
Single cup serving machine: Some of the coffee machines featured in this review are for a single cup serving, and are super lightweight. Others serve several cups while sacrificing weight for the ability to handle a larger party. With a single cup coffee machine, you can take it with you on a long hike.
Multiple cup serving machine: Multiple cup coffee machines for camping weigh more than the single cup versions, but some come with a nifty carrying case so that you can carry it to and from your vehicle.
Stainless steel percolator: If you have a gas stove at your disposal, you can use a stainless steel percolator on top of the frame in order to make coffee for several people at a time. The stainless steel will not scratch or get discolored easily. The stainless steel also prevents chemicals from seeping into the pores of the walls, which prevents certain tastes from accumulating and re-entering your next pot of coffee. They also look super modern, and are a great addition to your kitchen as well.
Review quality requirements
In order for a coffee machine to make it to this review, we have set some specific quality requirements. We feel that this was the best way for us to provide you with compelling information on the best coffee machines for camping.
Here are the quality requirements, in no particular order:
1. Must be usable for camping. This can be in the form of a lightweight coffee machine that can be carried in a backpack. Or it can be a multiple cup serving machine that can be taken with you in your vehicle while going to a camping site.
2. Must make excellent tasting coffee.
3. Durability was also a deciding factor in including a coffee machine in this review.
4. Multiple customer reviews on Amazon. If there were any defects, at least one customer would have said so.
5. The star rating of 4 or above out of a scale of 5 stars.
And with all of this in mind, here are our top 5 coffee makers.
Aerobie Aeropress Coffee Maker with Tote Bag
The Aerobie Aeropress coffee maker was made by a man named Alan Adler. This brilliant engineer spent a lot of time perfecting the single serve coffee maker. He was most concerned with the coffee's taste. By using the process of total immersion, he was able to make this wonderfully versatile coffee maker.
Weight: 1.3 pound
Dimensions: 19.8 x 12.3 x 9 inches
Versatile: The Aerobie Aeropress coffee maker can make cappuccino shots, lattes, espressos, and American style coffee.
Excellent tasting coffee: The Aerobie Aeropress coffee maker uses the process of total immersion inside of a pressurized tube. Simply boil water to 175 degrees and add to the tube. The result of this is one excellent tasting coffee.
Produces pure coffee: Through its micro filtering process, the Aeropress makes a pure type of coffee that is particle free. This pure coffee can be refrigerated for several days to keep a cup of cold brewed coffee.
Take it on a hiking trip: The Aeropress is so light that it can be taken on a hiking trip. It comes with a tote bag, and you can put the whole contraption into your backpack.
Some customers have noted that the Aeropress makes a better tasting coffee than high-end espresso machines. Once you put the hot water into the tube, it takes less than a minute to brew. And since this contraption uses of wire mesh in order to filter the coffee, there are no dirty paper filters to throw away. In order to clean it, simply take out the grounds and rinse it out.
Jetboil Flash Java Kit
The Jetboil Flash Java Kit was made with the hiker in mind. Not only is it light enough to carry around in your backpack, it is also an all-in-one tool to your coffee making needs outdoors.
The Jetboil Flash uses a propane tank to light a fire under the cooking cup. There is no need to light a match, and it only takes a flick of a switch in order to light the fire. Water boils in under 2 minutes, and there you have your cup of jo.
Weight: 1.25 pounds
Dimensions: 5.1 x 8.1 x 10 inches
Push button igniter: The gas tank ignites the flame when you push the igniter. You can adjust this flame, as the burner is adjustable.
Not limited to drinks: You don't need to limit yourself to making coffee, a you can use the boiled water to make some pasta or even warm up some freeze-dried foods.
Purchase a pot support: If you would like to use this contraption for more than just making drinks, purchase the Jetboil Pot Support. With this pot support, you can put a frying pan or a pot above the burning stove.
French press: This version of the Jetboil Flash Java Kit comes with a french press that has a wire mesh as a filter.
Once your coffee is completed, take the cup from the contraption and put it upright inside of your backpack. The warmth lasts for hours as it has a really nice insulated sleeve. If you are worried about the burner turning itself off in high wind conditions, this one is built so that the flame remains lit under most conditions.
Handpresso Wild Hybrid Coffee Machine
The Handpresso Wild Hybrid coffee machine was made with the traveler in mind. It creates one serving of a great-tasting espresso. It uses the same pressurized process as any high-end espresso machine. Some customers have commented that the quality of their espresso is the same with the Handpresso as it is with a high-end espresso machine.
Weight: 11 pounds
Dimensions: 8.5 x 3 x 4 inches
Hybrid for fine ground coffee or E.S.E pods: The Handpresso is called the Wild Hybrid because of the fact that it can use either ground coffee or standard E.S.E. pods. By using standard E.S.E. pods, you can save yourself the trouble of cleaning out the coffee grounds, which can get messy. Simply take out the pod, rinse off the tube, and put it back in its case.
Espresso on the go: You can take this small contraption anywhere you go. Take it to work or take it on a hiking trip. The only caveat is that you must find a heat source in order to boil water before putting it into the tube.
With the Handpresso, pump up the pressure to the right level. It is similar to pumping up a tire using a tire pump for your bicycle. Although it may take a while to get the hang of making the perfect cup of espresso using this machine, once you have used it a few times you will see the great benefits of having this around.
Coleman Portable Propane Coffeemaker with Stainless Steel Carafe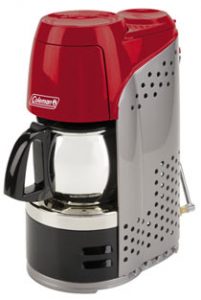 As with the Jetboil Flash Java Kit, the Coleman propane coffee maker with stainless steel carafe has a propane tank. By flicking on the ignition switch, you can light the propane burner and make up to 10 cups of coffee at a time.
Weight: 9.5 pound
Drip brewing: This coffee maker is not just for boiling water. It is also used as a drip coffee maker which uses a filter basket.
Stainless steel carafe: The open lid stainless steel carafe that comes with the coffee maker is dishwasher safe and very easy to clean. It holds enough water for 10 cups of coffee.
Brewing time: The brewing time for the Coleman propane coffee maker is less than 15 minutes.
Propane cylinder: The propane cylinder that can be fitted into the Coleman coffee maker is sold separately. You can find this at any department store for around $6 each.
Dishwasher safe: Both the filter basket and the cafe are dishwasher safe. However, they are easy to clean by simply rinsing them off.
The coffee made from this coffee maker comes out very hot, even if you're starting off with very cold water. You can also purchase a very durable carry bag that is coleman propane coffee makers. These carry bags are sold separately on Amazon.
Farberware Classic Stainless Steel Yosemite 8 Cup Coffee Percolator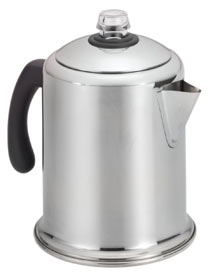 The Farberware Stainless Steel Yosemite Percolator has a classic, yet modern look. Not only does it make your kitchen look awesome, the stainless steel means that you can take this with you on a camping trip. The stainless steel will prevent scratches and various elements from accumulating on the walls of the percolator outdoors.
You can use this percolator on a propane burner in order to boil 8 cups of water. But it is not just a kettle-styled container; it also has a steel filter built right into it so that you can put coffee grounds in it.
Weight: 2.2 pounds
Dimensions: 7 x 9.2 x 8.7 inches
18/10 gauge stainless steel: The use of stainless steel in a percolator has health advantages over plastic or aluminum. There are no harmful chemicals that are going to be boiled off the interior walls. And none of the coffee chemicals are going to accumulate into the pores of the materials, which means that every time you make a pot of coffee, you always have the best tasting and purest form of the drink.
Wire mesh: The Farberware Yosemite coffee percolator uses of wire mesh to help you filter your coffee as it is boiling. No need for messy paper filters as in drip brewed coffee. Thus, no producing garbage when you're outdoors. Rinse off the perculator and you are done.
Use for camping: In order to make coffee with this percolator while camping, put in on a burner and allow it to boil.
Despite the fact that this percolator uses a wire mesh instead of paper filters, customers have noted that no grounds will get past the mesh. Percolated coffee produces a coffee that is richer in taste than regular drip coffee. As an added bonus, percolated coffee comes out hotter than drip coffee.
Which camping coffee maker should I choose?
All of the camping coffee makers above have been chosen by us because they are the most popular and highest quality camping gear for coffee that we have found. For each of these, customers have noted the high quality feel of the product. It is easy to see why each of those products have received 4-5 star ratings on Amazon across the board.
We like all of these camping coffee makers equally, and each provides its own particular advantages. Which coffee maker you choose depends on the type of camping you're going to be doing. Are you going to be traveling alone? If so, you can either choose the Aeropress, the Handpresso, or the Jetboil Flash. This is not to say that you can't use these for larger parties, you will simply need to make the cups of coffee one of the time. They also have the advantage of being able to be carried in a backpack while hiking. Or, simply take them with you to work in the morning.
But if you are going to be traveling with a larger party, and would like a quick way of creating many cups of coffee all in one go, choose the Coleman Portable Propane Coffee Maker, or the Farberware Classic Stainless Steel Percolator.
We have reviewed each of these products separately on this site. Each of the products above has a link to our individual product reviews. Please have a look and see if any of them speak to you.
OffTheGridGearHub.com is a participant in the Amazon Services LLC Associates Program, an affiliate advertising program designed to provide a means for sites to earn advertising fees by advertising and linking to Amazon.com. Some links may be affiliate links. We may get paid if you buy something or take an action after clicking one of these