Professionals who often move from point A to point B with their documents and laptop need a means of doing so without carrying too much weight on their backs. Having a rolling briefcase is the answer to this problem. A rolling briefcase is for air travellers and city movers alike. Whether you are traveling by plane, or simply moving from building to building, using a wheeled briefcase is a must.
You might be interested in: 6 Best Carry-On Garment Bags: Wheeled and Tri-Fold Bag Reviews
Why purchase a wheeled briefcase
There are many reasons to purchase a wheeled briefcase over one that you carry over your shoulder. You may already be aware of some of these reasons, but we will list them here just in case.
Durability: A rolling briefcase is more durable because it stands upright, even when you are not holding it. This means that there will be no wear and tear on the surface of the body. Since you're not picking it up and setting it down on gravel (as it remains on its wheels), it will resist abrasion.
Looks classy: Wheeled briefcases normally come in classy brown and black colors. Some are built with a sturdy looking nylon, while others are made of leather. Either way, they look very professional.
Prevents backaches: By rolling the briefcase on the ground, you are letting the wheels do all the work. Instead of carrying around a heavy briefcase full of gadgets and papers, you can prevent backaches by using its telescoping handle.
Keeps you organized: Each of the briefcases featured here has a spot for your files, electronics and other small items. It keeps you ultra organized with special pockets for each type of item.
Safer for your laptop: The fact that this briefcase remains on the ground means that you will not drop it and break your laptop. Each of these briefcases come with a padded laptop sleeve.
Allows you to carry more: A rolling briefcase allows you to carry more stuff than a regular briefcase that you carry by hand. You can carry more documents, as well as more of your other gear. In fact, most of these briefcases have designated areas where you can store your clothing for overnight trips.
Things to consider when purchasing a rolling briefcase
When considering which rolling briefcase to purchase, there are a few major considerations to take into account. The considerations below will affect the likelihood that you will be satisfied with your briefcase.
Inline wheels vs. spinner wheels: Spinner wheels tend to make the briefcase stand higher than if they were on inline wheels. Spinner wheels are larger, and tend to be more durable. They also help you maneuver around corners a little bit easier. Even so, all of the wheeled briefcases featured in this article have easy gliding wheels.
Dimensions: The dimensions of a briefcase matter in terms of how it feels when you lug it around. You should get the smallest possible briefcase for the amount of space that you will be needing. Most of the briefcases below fit into the overhead compartment as well as under your seat in an airplane.
Laptop compartment size: If you have a laptop that you want to store in the rolling briefcase, the size of a laptop compartment will matter as well. Make sure that you get a briefcase with a laptop sleeve that is the same size of your laptop or larger.
Price: Many brand name rolling briefcases are expensive. But you do not need to purchase an expensive briefcase to get great quality. The briefcases featured below are not on the high side of prices, but they are not on the cheapest side either. The cheap briefcases that you can purchase nowadays are of low quality. The wheels break off easily, and are not worth the cost. We have only featured the rolling briefcases that we feel are the best that you can purchase for your money.
8 Best Rolling Briefcases
Swissgear Granada Rolling Case
The Swissgear Granada Rolling Case is perfect for overnight trips. It has a special compartment for your clothing, along with a sleeve for a 15″ to a 17″ laptop. The body is made of thick nylon, which helps protect against the rain. There is a quick pocket for easy access to things such as your cellphone or plane tickets. It comes with an internal organizer with pockets for your pens, business cards, credit cards, and phone.
The skate wheels make it easy to maneuver around tight corners. There only two wheels on one side, and the other side has stoppers which you can rest the briefcase on. The Granada Rolling Case can be used as a carry-on on an airplane. It fits in the overhead compartment, as well as under your seat. To allow you to attach it to another suitcase that has a handle, it has an elastic strap on the back.
Samsonite Classic Business Wheeled Business Case
The Samsonite Classic Business Wheeled Business Case is made of a thick 1680D ballistic nylon weave. This is the type of material that was originally used by the U.S. Federal government for military purposes. Despite the fact that it is highly durable, it also comes with a 3-year warranty. The dimensions of the suitcase are 16.5″ x 13.25″ x 8.0″, and it can hold a 15.6 inch laptop. It has a quick stash front pocket for smaller items that you will be retrieving frequently.
This suitcase has a section for clothes that comes with compression straps to save space. The main compartment has three large pockets for your smaller items. The middle section is the files section, which has a divider in the middle. There's a large pocket in the front that is zippered, containing your electronics and your business cards. Customers have noted that the gliding of the wheels is very smooth. The suitcase fits under most airline seats.
Alpine Swiss Rolling 17″ Laptop Briefcase on Wheels
The Alpine Swiss Rolling Briefcase has a slightly different look then the other briefcases featured here. It looks more like a traditional briefcase, and less like a suitcase. That being said, it also has two separate combination locks on both sides of the top. This sets it apart from the others featured here. Also, the front compartment expands to 2 inches deep. The suitcase measures 19″ x 14″ x 9″, and can easily fits a 17 inch laptop.
Unlike the others, it also has a large side pouch for your frequently needed items. Across from the laptop sleeve in the main compartment, there is a file separator to keep your papers organized. The inline skate wheels have protectors so that if you hit a curb, you can quickly pull up the case without damaging the wheels. If you are not happy with the quality of this great briefcase, it comes with a one-year manufacturer's warranty.
Kenneth Cole Reaction Casual Fling Computer Overnighter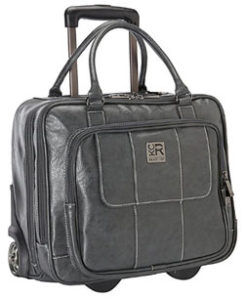 The Casual Fling Computer Overnighter looks pretty trendy compared to the others here. Instead of looking completely professional, it has an element of style. This suitcase is suitable for both men and women. The body of the suitcases made of vinyl, but it has a fabric lining on the inside. For the classic look, the vinyl is a pebbled PU exterior body. Dimensions of the suitcases 13.5″ high x 16″ wide.
Another great feature that makes it unique is the front exterior flap over pocket. You can quickly get your items in and out with the magnetic closure. This pocket is lined with brushed polyester so that you can store your valuables without abrasion. The front exterior pocket has an organizer for your smaller items, along with an iPhone pocket. There's also a padded tablet pocket and a padded computer pocket. The rear compartment is the overnight section that holds your clothes, and it includes compression straps.
Solo Premium Leather 15.6″ Laptop Rolling Case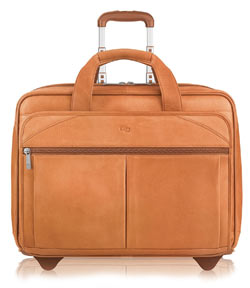 The Solo Premium Rolling Case is made of real full grain leather. This one is a bit more expensive than the others due to its leather body. One of the great things about this suitcase is that the real leather will wear like a fine leather jacket. Overtime, you will see that it takes on a slight patina color.
The suitcase is overhead compartment friendly. It has a 15.6 inch laptop compartment that is fully padded for electronic protection. Apart from the two padded carry handles, it also has a padded shoulder strap with extra cushioning. The shoulder strap is removable. Like the others in this article, it comes with a file compartment and pockets to organize your smaller items.
Solo Classic 17.3″ Laptop Rolling Case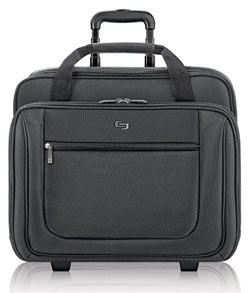 The Solo Classic Rolling Case is one of the largest suitcases that we have reviewed. It measures 14.75″x 17.3″ x 8.75″, and can fit a 17.3 inch laptop. It is designed with simplicity in mind, and is made with great durability and quality. The body material of this backpack is a polyester blend. If you're not satisfied with the quality, it also has a 5 year warranty.
Despite being able to fit a 17 inch laptop, it also has a slim profile that is perfect for everyday use. You can also put it under your seat or in the overhead bin in an airplane. If you are not using the handle, you can hide it inside of the zippered pocket. You can also use the padded carry handles to lug it around. The front zippered pocket has a file organizer with a separator. The inline wheels provide a weightless glide without adding any bulk.
Samsonite Luggage Xenon 2 Spinner Mobile Office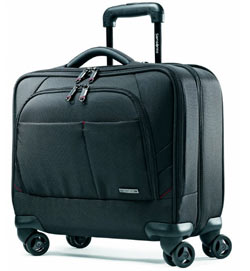 A suggested by the name, the Samsonite Luggage Xenon 2 Spinner Mobile Office comes with large spinner wheels. Instead of only having two wheels like some of the others, it has a full set of four. Despite having larger wheels, it can still be used as a carry-on. The dimensions of the suitcase is 13.5″ high x 16.5″ wide.
Inside of the suitcase, you can fit a 15.6 inch laptop in its padded sleeve. It has multiple pockets that provide for optimal organization. It also has extra large zippers that are heavy duty so you can cram a bunch of gear in without needing to worry about broken zippers. Compared to others, the handle is pretty sturdy and it is also longer. If you are not happy with the quality, it comes with a 3-year limited warranty.
Targus Metro Roller Laptop Case for 16-Inch Laptop
The Targus Metro Roller Laptop Case measures 14″ x 16.50″ x 7.50″, and is made with a sleeve for a 16 inch laptop. It has a lining with closed cell foam for extra electronic protection. For even more protection, the polyester material is water resistant and has a 1200D thickness.
The front zip down pockets have special compartments for your pens, business cards, phone, and a larger pouch for accessories. There is a larger zippered compartment for your clothing if you're going to be having overnight stays. It also has the most comprehensive lifetime warranty in the suitcase industry.
OffTheGridGearHub.com is a participant in the Amazon Services LLC Associates Program, an affiliate advertising program designed to provide a means for sites to earn advertising fees by advertising and linking to Amazon.com. Some links may be affiliate links. We may get paid if you buy something or take an action after clicking one of these