One of the reasons why a couple may choose to go camping is that it brings them closer. There is something intimate about being alone with your loved one in nature.
While camping is normally seen as a means of letting go of stress, it also entails a few hazards that you must be prepared for. For example, it is no fun to be camping when you are out in the rain and high winds. Or when you are getting lost in the woods and you are arguing over how to find your way back.
Below are a few tips to help you make your camping trip as smooth as possible as a couple.
Related: Health Benefits of Camping 
Communication is Key
Before you go out on a camping trip with your loved one, make sure that you are both in agreement on the type of camping that you want to do. For example, some people don't like the prospect of possibly getting lost while hiking. In which case, going to a drive-in campsite would be the best idea. Sometimes, certain campsites have particular amenities. If your partner is one that absolutely needs to shower every day, you can go to a campsite that offers shower facilities.
While it is true that partners can make certain concessions in order to please the other, a camping trip is meant to be fun and relaxing. Yet, camping is also roughing it, and it would be wise to make sure that you are prepared by deciding who will take care of what.
Setting up Camp
Setting up the camping ground can be trying for some couples, especially if they are not used to camping. When setting up the tent, have one of you take care of the outside while the other takes care of setting up the inside. When starting a fire, assign it to only one person. Most people disagree on how to start a fire, and this can cause some arguments. Let one person do the job and make sure that the other person does not critique.
Remember that both parties must contribute equally to the camping trip. If one person does more work than the other, this might be cause for argument.
Related: How To Make Your Campsite More Comfortable 
Come Prepared
There is no greater cause of stress while camping than to be unprepared. Make sure that you plan out your meals and bring adequate clothing for the entire trip. Sleeping under a leaky tent or getting caught in the rain will cause nothing but frustration. Most importantly, plan adequately so that you do not get lost in the woods.
Camping Brings You Closer
Apart from any stress that might ensue from not being prepared for camping as a couple, there might be many reasons why it can bring you closer. There is something about being out in the wild with your lover that brings out the primal nature in you.
Here are some of the advantages of camping as a couple:
#1 No Distraction
Because there's no signal, no internet, and no distracting devices, camping with your partner is very beneficial. Because there's nothing to do and no distractions, camping can spark interesting and deeper conversations. And heart-to-heart conversations help grow and develop a more meaningful connection with your partner.
#2 Cook Together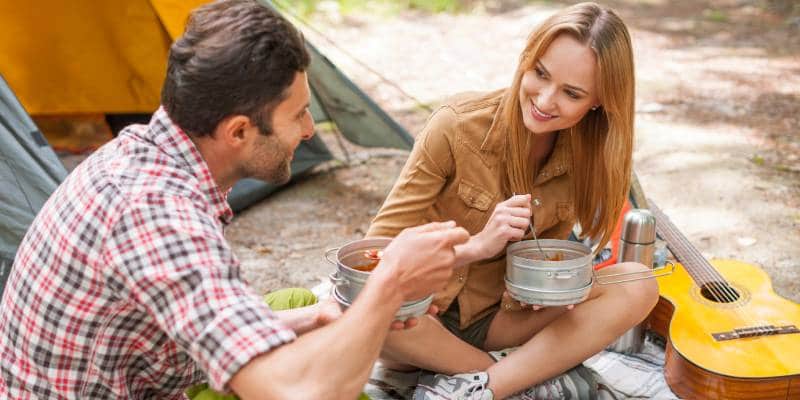 Cooking together in nature brings about a closeness that can only be experienced in the wild. In addition to that, cooking together helps strengthen your relationship as it requires good teamwork. Furthermore, it promotes better conversations while you're chopping and waiting for the food to be cooked.
#3 Less Stress
You are together, away from all of the usual distractions, which allows you to let go of the usual stressors. Stress at work can have a great impact on a relationship. Camping away and forgetting all of your trouble for a day can help keep your relationship strong and healthy.
#4 Communication
Snuggling and telling stories by the campfire is very intimate. There are a lot of things that you'll remember and will want to talk about once you're away from all the stress in the city.
#5 Romantic View
For people who love to camp, just enjoying the theatre of nature together can be more romantic than 5-Star Hotels and restaurant dates! Watching the stars while drinking wine and listening to cozy music is definitely a great idea for a romantic date as well!
Summary
If you are both enjoying nature as a couple, there can be plenty of advantages in bringing you closer. In order to allow this to happen, plan ahead of time and come prepared with all of the gear required to make this a stress-free experience.
Read our guide to help you pack for your next camping date: 30 Items To Not Forget For Camping!
OffTheGridGearHub.com is a participant in the Amazon Services LLC Associates Program, an affiliate advertising program designed to provide a means for sites to earn advertising fees by advertising and linking to Amazon.com. Some links may be affiliate links. We may get paid if you buy something or take an action after clicking one of these