The Chacos and the Birkenstocks sandals are very popular at college campuses and beyond. While some use the Chacos for hiking, others use the Birkenstocks for dressing up in evening wear or just wearing with jeans. Then again, the Chacos has been known to be worn even at weddings.
So the question remains, which of these sandals is the best? The truth is, there is no right or wrong answer; it is simply a matter of preference. But you can make a well-informed decision by reading the following Chacos vs Birkenstocks comparison.
Chacos vs Birkenstocks
Preview
Chaco Sandals
Birkenstocks Scandals
Title
Chaco Mens Z/1 Classic, Outdoor Sandal, Black 8 M
Birkenstock Men's Arizona Birko-Flor Brown Birko-Flor 40 R US 9
Upper
Polyester jacquard webbing
Outsole
ChacoGrip™ rubber compound
Chaco Sandals
Preview
Title
Chaco Mens Z/1 Classic, Outdoor Sandal, Black 8 M
Upper
Polyester jacquard webbing
Outsole
ChacoGrip™ rubber compound
Birkenstocks Scandals
Preview
Title
Birkenstock Men's Arizona Birko-Flor Brown Birko-Flor 40 R US 9
The Classic Birkentocks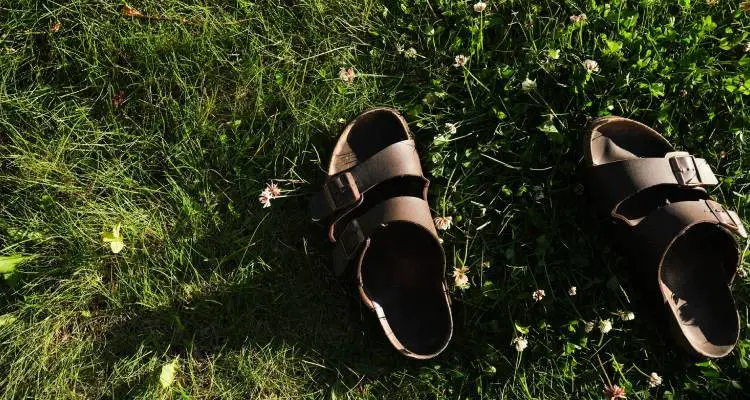 Birkenstocks are made in Germany and have been around since 1774. However, they made their first appearance in the U.S. in 1967. Birkenstocks were popular with the flower child generation. They were often seen at concerts and on the runways. They have recently made a comeback on the runways in Paris, and still remain popular to this day.
Pros
Highly durable: Birkenstocks are made of high quality materials that are long-lasting. They are also especially made so that they can easily be resoled by a shoe repairer. These sandals will last you for years and years.
Very comfortable: Great care was taken to make these sandals shape to the contours of your feet. The cork material at the bottom of the sandal really does take shape to your feet and will make you feel like you can walk for miles.
Versatile and elegant: Birkenstocks look great with just about any ensemble. They go great with formal evening wear, as the design of them is very elegant. But they can also easily be worn with ripped jeans or even a bikini.
Cons
Made with real leather: Since Birkenstocks are made with real leather, they can get ruined if they continuously get wet. If you are going to be wearing Birkenstocks a lot in the rain, there are waterproof options available. Just keep in mind that the waterproof options are not as elegant as the leather Birkenstocks. Leather can also be an issue for those who are morally opposed.
The Sporty Chacos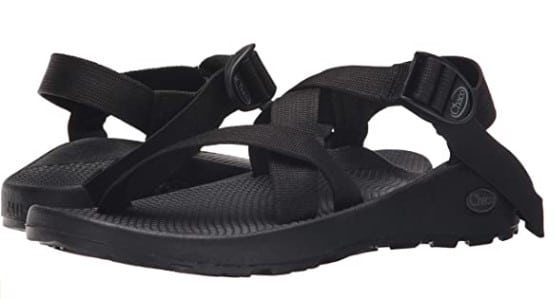 Chacos sandals are the sportier of the two. They can be worn in just about any environment. You can take them walking on the beach, hiking in the woods, or just walking around town. Some people swear by their Chacos and wear them almost exclusively.
Pros
Appropriate for rugged use: While Birkenstocks cannot be worn for hiking, Chacos are a great hiking sandal. They will not slide off of your foot, and also have suction padded soles.
Waterproof: You can get away with wearing the Chacos in torrential rains. They will not get destroyed, as the fabric they are made of is synthetic.
Durability: As with the Birkenstocks, Chacos can be worn for years and will not fray if taken care of.
High arch support: Chacos are perfect for those who have high arches in their feet.
Comes in many sporty styles: With Chacos, you get the option of many wild patterns and colors for the straps.
Cons
Not for formal wear: Chacos are not as elegant-looking as Birkenstocks. Wearing them with evening wear can be tricky, but that can also depend on the color and style that you choose. Some people have been known to wear the Chacos to their own wedding!
Chacos vs Birkenstocks: Prices
Prices for both of these sandals can vary. This is because they both come in several different styles. To see what these sandals cost on Amazon, please follow the links below:
The Verdict
As you can see, the choice between these sandals would be based on the uses that you will have for them. If you're looking for a more utilitarian sandal, then the Chacos is perfect for most uses. You can hike in them or even take them out on the town in the evening. But with the Birks, you can dress them up with evening formal wear, or wear them with jeans.
Birkenstocks are generally more comfortable than the Chacos. But the Chacos have high arch support, while the Birkenstocks do not. Despite the fact that the Birkenstocks are touted as being more comfortable than the Chacos, many people swear by their Chacos.
Both sandals will last you a very long time as they are made with high quality materials. While there has been a debate on which of these to wear on campus and while traveling, there is no clear winner.
Which of these sandals do you prefer? Please let us know your thoughts by leaving a comment below.