A great camping snack that is easy to make is hot dogs over a campfire. When you pack up your wieners to come to your camping area, make sure that you have brought along a cooler filled with ice. You will not want your wieners to go bad on the way over in the hot sun. Bring some skewers or plan to find some good branches that you can use to hold your hot dogs over the campfire using hotdog roasting sticks.
You may like to read:
How To Cook A Hot Dog Over A Campfire Using Hotdog Roasting Sticks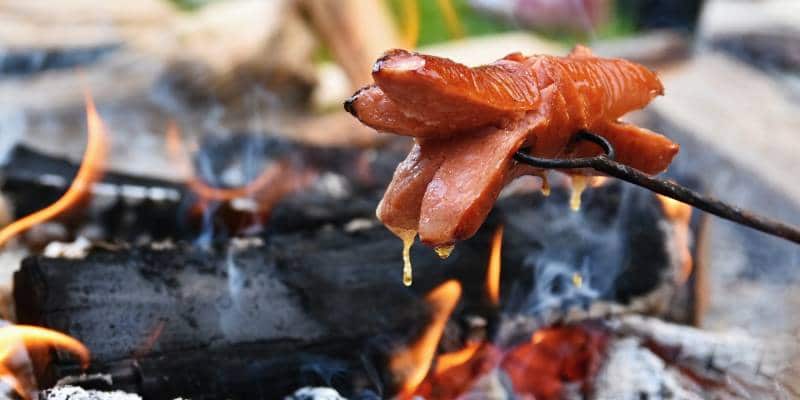 #1 Make the campfire:
You want the campfire flames to be not too tall, but not too short. You don't just want embers burning because this will never cook the wiener. Flames that are too tall will also be a nuisance, as you will continuously have to hold up your skewers to be above the flame. If you don't know how to make one, read our step-by-step guide on how to make a campfire.
#2 Prepare the hot dog:
Prepare the hot dog by slicing it through the middle. But only slice it to the center of the hot dog, not all the way. Otherwise, you will not be able to run your skewer through it.
#3 Place It On HotDog Roasting Sticks:
A roasting stick or a skewer is designed to help you easily grill or roast meats like hot dogs, fish, marshmallows, and other camping foods. It is usually made from metal or wood.
But if you want to have more even cooking, especially when you're camping, you should consider buying metal roasting sticks or skewers. In addition to that, metal skewers are more durable and will not burn and cause your camping meal to go to waste. In addition to that, it is easy to clean and can be used repeatedly during your camping trips.
HotDog Roasting Sticks Buying Guide
If you don't have the space for grilling plates, a HotDog roasting stick is the best option. Here are the things you should consider when buying a hotdog roasting sticks
Materials:
One of the most important things to consider when buying a hotdog roasting stick is the type of materials used. Cast Iron or stainless steel is the most popular material used because of its protection against rust and corrosion. In addition to that, hotdog roasting sticks made from steel are easier to clean
Length:
Aside from the construction material, make sure that your roasting stick is long enough according to your preference. The safest length of your hotdog roasting stick should be around 20 inches. If you have extra budget, there are retracting roasting sticks that you can

There are roasting stick sets that come with extra-long sticks, up to 45″ long. This can be a great investment if you're traveling with kids. That's because they have shorter hands and they will need longer sticks to cook their hotdogs over the fire.
Grip and Handle
Most roasting sticks come with wood or rubber grips for comfy and better handling. The design of the handles should mold to your hand. This will enable you to enjoy your roasting session for longer hours.
Design
There are a lot of designs you can choose from when it comes to hotdog roasting sticks. There are colorful rubber models and there are classic and vintage-looking roasting sticks. Depending on your preference and budget there's a lot of options you can choose from.
HotDog Roasting Sticks Additional Features
Most of the hotdog roasting sticks on Amazon come in sets and in carry bags for organization purposes. But if you're saving space or you're traveling alone choose the single pack. Some of these roasting sticks, aside from being more durable, have more and better features. For instance, there are models with retractable handles and some that work like a fishing reel!
Now that you know the best roasting stick to buy, let's continue to the next step.
If you forgot to bring your metal roasting sticks or skewer, you can always find a short piece of wood that you can run through the hot dog. You will want to ensure that the hotdog is secure. If it is loose, it will fall into the campfire as it is cooking. Ensure that it is secure by pressing onto the hot dog and creating pressure around the skewer.
#4 Cook the hot dog:
Place the hot dog right over the fire. It does not matter if the fire actually touches the hot dog. Just keep turning it continuously for about 4 minutes. Since hot dogs are pre-cooked, you will not need to cook them for longer than that. Once the hot dog is brown, you will know that it is done. Just use your best judgment!
#5 Remove the hot dog from the skewer:
You will not want to use your hands to remove the hotdog, as it will be too hot. Use a fork or a knife to slide it off the skewer and place it on a bun. Garnish as desired.
Looking for the best camping knife? Check out this article: Leatherman vs Swiss Army Knife: Which is Most Useful?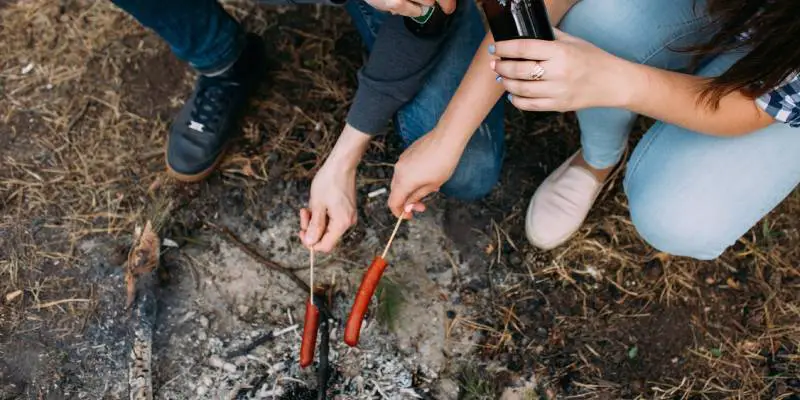 There are people that use tin foil over the wiener. This helps prevent any burned areas and cooks it very evenly. To do this, you would not use a skewer. You can simply use a pan or grill over the campfire. This will actually cook it slower than putting it right over the flame. We prefer the skewer and flame method, but that is up to you.
If you have any tips on cooking a hot dog over a campfire using hotdog roasting sticks, please leave your suggestion below.
You might like: How To Make Campfire S'mores