Going camping with your dog can be rewarding for both you and the dog. If you have never done this before, this guide will help you learn how to camp with a dog.
Related: Best Tent When Camping with Dogs
When Not To Take a Dog Camping
First, it is not always true that you should bring your dog with you while camping. There are certain conditions under which you should never bring a dog with you.
Size
As you may well know, dogs come in a variety of sizes and personalities. If you are going to be going over rough terrain, never bring a smaller dog. The legs are too short to comfortably go over the large rocks and logs. Only bring a small dog over trails that are smooth.
Noise
Many small dogs are yelpers, which can be very distracting to other campers. The high pitch sound carries pretty far and can be very annoying. Even dogs that are larger but are generally barkers need to be kept under control. If your dog is a barker, train them to obey commands the stop barking before going camping with them.
Character
Also, some dogs are just naturally aggressive. If your dog is aggressive towards other people, animals, or likes to forge through things, it may not be a good idea to bring them along. This can get you and them into trouble very easily.
If you are going camping in the backcountry where there are a lot of bears, leave your dog home. That's because, if your dog sees a bear and runs towards that, this is the perfect reason for a bear to start to attack them and even yourself.
Health
If you will be doing a lot of hiking, make sure that your dog is in the shape. A dog will end up being in a lot of pain the next day if its muscles are not strong enough to handle long walks or runs.
Related:  How to Protect Yourself from a Bear Attack
How to Camp with a Dog 
If you have a very healthy, behaved, and friendly dog, then it is possible to bring it with you for camping. And your dog will definitely love you for including him in your trip. But before you pack here are the things that you should do or keep in mind.
#1 Book a Vet Appointment
If you're planning to bring your dog hiking or camping, make sure to visit your vet before doing so. This is to make sure that your dog is healthy enough to go and explore with you. In addition to that, there are lots of ticks and bugs that can bother your dogs while camping. And your dog is more susceptible than you to getting fleas and ticks. Make sure you get a flea- or anti-tick repellent when you visit your vet as well.
#2 Don't Leave Your Dog Unattended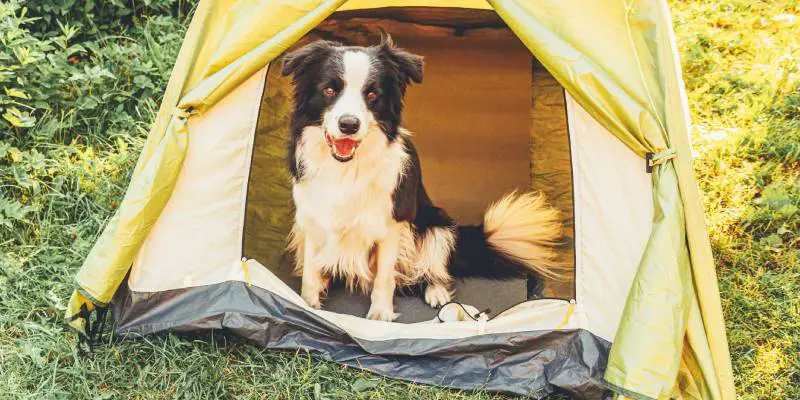 Always know where your dog is at all times. Never leave them unattended, and make sure that you are not entering into a dog-free zone. The forest or your camping site can be filled with small mammals that dogs love chasing! One great tip is to bring their favorite toys to keep them occupied while you setting up camp or making a campfire.
Related: How To Start a Campfire: A Step-By-Step Guide
#3 Secure Your Dog
If you're traveling alone and you want to make sure that your dog doesn't run off somewhere while you're busy, then you should get a leash. A leash is very helpful too if it's you have a very curious dog or it's his first time to camp.
One trick is to tie a rope between two trees and put the leash on it. This way, your dog can get some exercise in between the trees. Furthermore, if you have a campfire burning, make sure that your dog is on a leash away from the campfire so that he cannot reach it.
#4 Hydrate
On average, your dog should drink around 1 oz of water per 1lb of weight. Make sure you bring enough to prevent dehydration. Take stops while hiking, and allow your dog to have a bathroom break and drink some water.
#5 Clean Up Dog Poop When Camping
Always pick up after your dog.  Not only is dog dumping unpleasant to see, but they are also an attraction for bears and unwanted critters. Other campers will also appreciate this.
There are a lot of biodegradable poop bags that you can buy and include when you pack for your next trip. These poop bags can be composted along with other organic waste.
Summary
Going camping with your dog requires you to follow certain rules. This is by no means an exhaustive list, but these are some of the tips to keep your dog safe and healthy during your trips. If you have any more to add, please feel free to leave your comment below and we will add this to our guide.
OffTheGridGearHub.com is a participant in the Amazon Services LLC Associates Program, an affiliate advertising program designed to provide a means for sites to earn advertising fees by advertising and linking to Amazon.com. Some links may be affiliate links. We may get paid if you buy something or take an action after clicking one of these