Keeping warm while camping can be a challenge, even in the summer. We have also done some camping in the dead of winter in the middle of a blizzard. We know how hard it can be to stay warm in these conditions.
The bulk of your camping gear space is going to be taken up by gear that keeps you warm. Don't be afraid to pack more if you believe that you will need it. Just remember that even in the summer, the nights get colder. And you certainly don't want to find yourself in a situation where are you simply cannot get warm no matter what you do.
Below are some tips that you can use to keep warm during any season.
Camping Gear for Cold Weather
The key to keeping warm when it comes to clothing is layers. Make sure to bring plenty of wool socks in case they get wet inside of your boots. Also, you will want to bring an extra pair of gloves, and a hat and scarf. Thermal underwears are also very important, especially at night.
Related: What Clothes To Take On A Camping Trip
Bring the following items:
Wool or Fleece Hat and Scarf
A hat is one of the most important things you should invest in when you love hiking and camping. There are a lot of types and it offers different protection according to its use. If you're looking for a hat to keep you warm during your camping trip, find wool or fleece materials. There are a lot of famous sports companies that manufacture the best ones, including Adidas and UnderArmour.
Make sure that the hats and scarves you buy are breathable, moisture-wicking, and dries quickly. That's because it can be very difficult to stay warm if your hats or beanies are wet. And there are no other options to quickly dry it when you're in camp.
Merino Thermal Underwear or Insulating Synthetics
Merino Thermal underwear is one of the most expensive underwear you'll find today. That's because they are made from the rarest kind of wool, grown by Merino sheep. This type of wool is not only softer than the regular ones. It also is odor-resistant, making it one of the best materials for camper's underwear!
If you don't have the budget to buy Merino underwear, insulated clothing is relatively cheaper. You also have a lot of choices and they're easier to find. Although Merino wool can produce more warmth, insulated synthetics dry more quickly. They're the better option if you're a heavy sweater!
Wool Socks
Wool is your best weapon against the cold. Aside from the fact that wool socks are comfortable for hiking, they offer great insulators too.  Furthermore, most of the wool socks sold today are fabricated so that they are fast-drying and moisture-wicking as well.
Waterproof Gloves, Pants, and Boots
Of course, if you love camping during winter, you should make sure to buy waterproof clothing. As you will be walking on snow, holding on to wet trees as you hike up to your camp, it is essential that your gloves, boots, and pants are waterproof. These waterproof clothing will help you retain more body heat and prevent you from getting wet and losing heat more rapidly.
A Down-Filled Jacket/Thermal Jackets
If you're a new camper, down jackets are thermal jackets filled with goose or duck feathers. They are the best jackets to have if you're a winter camping enthusiast. Down jackets nowadays are lined and finished with water-resistant synthetics to offer the best protection against the cold.
Related: The North Face Thermoball vs Down Thermal Jacket Comparison Review
Preparing Your Campsite: How to Stay Warm in a Tent
If possible, bring along a tent so that you can stay warmer at night. This certainly helps a lot, especially during more windy conditions. You also do not want to get caught in the rain at night.
If your tent has vents, resist the temptation to cover them up. This will help prevent moisture build-up, which can eventually make you colder. In front of the tent, you can start a campfire. Please make sure that the campfire is sufficiently distanced from the opening of the tent so that smoke does not build up on the inside.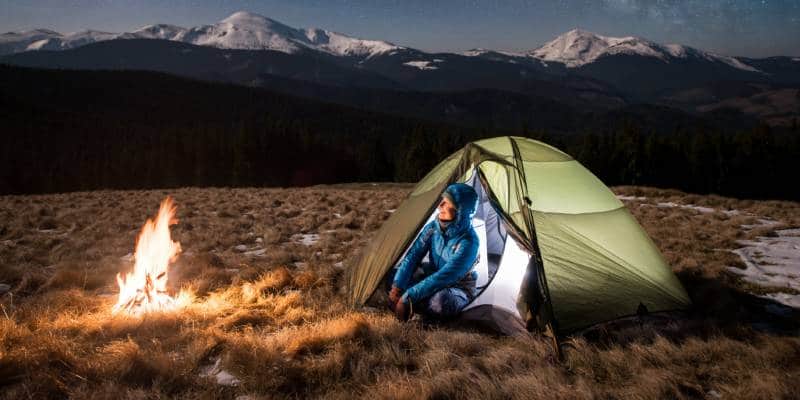 To keep the ground warm and to protect your tent, lay a tarp underneath the tent floor. Beneath your sleeping bag, lay foam or air mattress. Cover the top of the mattress with a wool sheet. During those cold winter nights, you can stack sleeping bags by putting one into the other. Add a waterproof layer over the sleeping bag, such as a metallic survival blanket or a waterproof jacket.
You might like: Outdoor Research Alpine Bivy Or Advanced Bivy Sleeping Bags Review
Campsite gear for warmth:
A tent designed for the temperature that you will be camping in
Tools to start a campfire
A ground tarp
One or two sleeping bag
A foam or air mattress
A wool sheet
A metallic survival blanket
How to Prepare For Bed
There are a couple of things that you can do before laying down in your sleeping bag that will keep you warm for the night. Before going to bed, make sure that you have eaten sufficient calories. This will keep your metabolism going throughout the night and keep you warm. Also, drinking a cup of ginger tea will help keep your just digestive system going, helping you maintain body heat.
Right before getting into your sleeping bag, make sure that you are warm. Your sleeping bag will not do much if you are cold. Do some push-ups or jumping jacks before hopping in.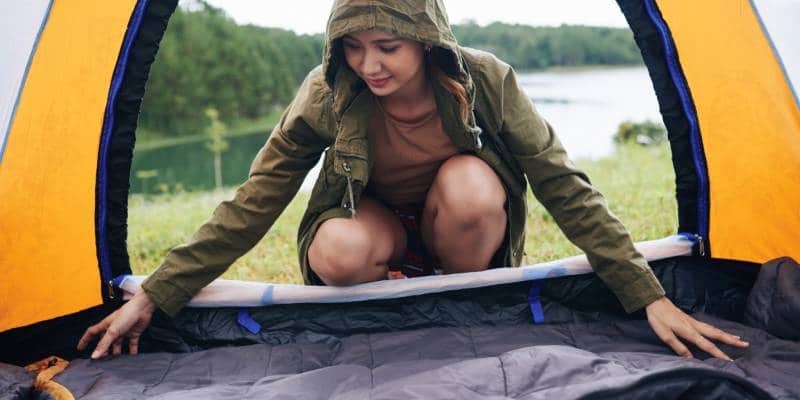 Avoid making the sleeping bag too tight around you. In fact, keeping some air inside of the sleeping bag will help to insulate it. It makes more sense to wear fewer layers if it is going to loosen up the sleeping bag. If the sleeping bag is too tight, its insulating layer will be compressed and will not protect very well against the cold. For extra warmth, place a hot water bottle inside of the sleeping bag.
Related: Down vs Synthetic Sleeping Bag: Which is the best sleeping bag for cold weather camping 
Summary
The above instructions are the essentials to keeping warm while camping. Of course, if you will be camping in 30 degree weather, a separate set of instructions will be needed. For more information on what to do if you're going camping in really cold weather, here is a cold-weather camping guide written by Princeton University.
OffTheGridGearHub.com is a participant in the Amazon Services LLC Associates Program, an affiliate advertising program designed to provide a means for sites to earn advertising fees by advertising and linking to Amazon.com. Some links may be affiliate links. We may get paid if you buy something or take an action after clicking one of these