Backpacks are your home when you're traveling. It has your wardrobe, your bedroom, and your kitchen, all packed into a single storage space that sits on your back. In fact, we believe that it's the most important purchase you can make before you go out in the wild. If you're a woman of nature, it might be high time for you to read through our buying guide on Osprey Womens Backpack. 
You're probably asking, "what's wrong with my unisex backpack?" The answer is: nothing's wrong with your pack! But, there are anatomical differences between men and women, and packs designed for both body types are not always the most comfortable.
In this Osprey Womens Backpack article, we'll go through your questions, talk about the features you should look for in a backpack, and even give you recommendations on the best Osprey backpacks for women. 
Related:
First off, who is Osprey? 
Osprey is one of the best backpack producers in the market. It's got multiple lines of products that are designed to make your hike, commute, or travel a breeze!
But before it became a very successful company, it started out as a retail shop that makes custom-made travel packs. When the demand became too high, the founders decided it was time to make an expansion, moving their little shop in Cortez to half-way across the world in Ho Chi Minh, Vietnam. 
What is even more amazing is their allegiance to athletes and the environment. The company sponsors athletes of differing sports, from snowboarding to professional climbers, to name a few.
They also do more than just sew in a tag onto their backpacks that reminds trekkers to keep the trails trash-free; Osprey is in constant partnership with environmental organizations. This commitment makes Osprey a company like no other. 
Things to Consider Before Buying an Osprey Womens Backpack
Now that we've impressed you with the company's legacies, here are some things you should look for in a Osprey Womens Backpack, regardless of what brand you're purchasing from.
Weight
When you're traveling, you tend to be more focused on moving from one place to another. A heavy pack will not only make you uncomfortable but will also distract you from the tasks at hand.
Imagine trekking to a gorgeous summit, only to be preoccupied with your heavy pack and severe back pain. Hassle, right? Avoid this by making sure that the weight of your pack is something your body can handle. 
Volume
Think about the things you need when you're on the road. Do you need space for tent poles? Kitchenware? Sleeping cot?
Whether you'll be needing these things or not, a backpack with sufficient volume and storage space is what you need. You can find packs in the market that can handle 25L, 32L, or 40L–find one that fits your needs perfectly. 
Material
If you're planning to purchase a backpack, keep in mind that you're not using it only once or twice. Make sure that your pack is made from durable material that can survive the wear and tear of traveling.
If possible, find a pack that is made from breathable mesh and nylon—bags made from these materials are usually water-resistant and more comfortable to carry on your back. 
Cost
An Osprey Womens Backpack isn't exactly cheap, especially those that are made from durable material. If you have spare bills in your bank account, you might want to invest in a quality backpack that can last for years.
For reference, quality backpacks usually cost $200 to $500. A little pricey, but totally worth it. 
Comfort
Before putting your money into a pack, keep in mind that you're going to walk for miles and miles with a bag on your back. Make sure that you're comfortable with your pack by doing a test run before you go out.
If you tend to frequently adjust the straps or stop to readjust the weight on your back, then it's not for you. You should also consider getting a pack that has an internal frame—it helps evenly distribute the weight on your back. 
Types of Osprey Womens Backpack
Bags aren't one-activity-fits-all products. If you're only going a day hike, you should opt for a smaller daypack, instead of purchasing a 40L hiking backpack.
It's important to find a pack that matches your intended activities for the optimal outdoor experience. Osprey offers different backpacks (and tote bags) depending on how you'll use them. 
Hiking 
When you're hiking, your Osprey Womens Backpack is your most important companion—it holds everything you'll need from kitchenware to an extra set of clothes. So, it's important to make sure that your hiking pack can accommodate all your needs while also being light and sturdy enough to make you comfortable on your journey.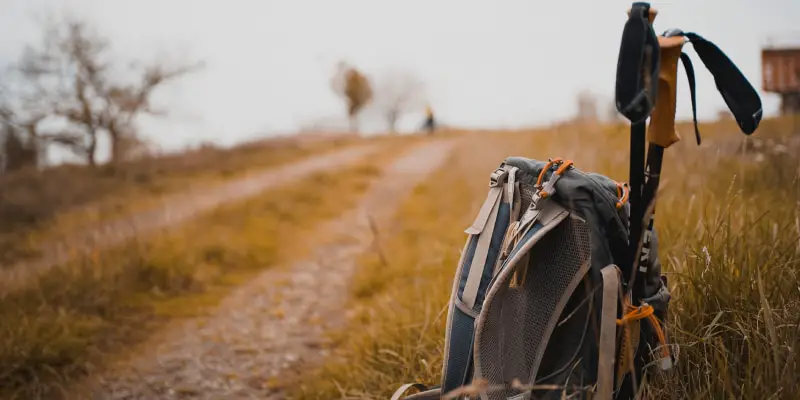 Fortunately, Osprey makes the best hiking backpacks for women. Osprey ensures that each hiking backpack is made from durable material, has a large volume capacity, and is designed for the female body. 
Below are Osprey's best hiking backpacks for different types and lengths of hiking trips.
Best Osprey Womens Backpack for Hiking
Hiking Backpacks
Osprey Tempest 20
Osprey Kyte 46
Osprey Aura 65
Osprey Xena 85
Preview
Best Use
Light Hiking
Mid Hiking
Weekend Backpacking
Long Backpacking
Best Feature
Biostretch Harness Mesh covered die cut foam
Integrated Rain Cover
Anti-Gravity Suspension
BioForm4
Harness with NeoSpacer™ fabric
Volume
18 – 20L
44 – 46 L
60 – 65 L
77 – 85 L
Weight
1.976 – 2.24 lbs
3.24 – 3.38 lbs
4.26 – 4.42 lbs
5.10 – 5.32 lbs
Torso Length
13.5 -19.5
13 – 20 inches
14 – 21 inches
14 – 21 inches
Hips (Circum)
26-44
24 – 45 inches
24 – 48 inches
Backpanel
AirScape™
AirScape™
Anti-Gravity™
AirScape™

Compression Straps

Lower side
Dual upper reverse StraightJacket side + Dual Lower Side
Dual upper and lower side
Dual upper and lower side
Main Compartment
Dual-zippered panel access
Side zipper access
Top Access
Dual side access
Compartment
6+ Main
6+ Main
11+ Main
9+ Main
Top Lid
None
Fixed with external zippered pocket and under lid zippered mesh pocket
Removable floating top lid with dual zippered pockets and web attachment points
Floating, removable top lid with top-and under-lid zippered pockets
Hydration Sleeve
External
(not included)
External
(not included)
Internal
(not included)
External
(not included)
Front Panel Pocket
Large stretch mesh
Hybrid shove-it pocket
Stretch Mesh
Hybrid nylon/stretch mesh pocket + Two zippered front pockets
Harness Pocket
Easy-access, expandable stretch-mesh
Side zipper access
Dual access stretch mesh with compression straps
Side Pockets
Dual Stretch-Mesh Pockets
Dual Stretch-Mesh Pockets
Dual Stretch-Mesh Pockets
Dual access stretch mesh
Raincover
None
Integrated Removable
None
None
Sleeping Bag Compartment
None
Zippered with Floating Divider
Zippered with Floating Divider + Removable sleeping pad straps
Removable sleeping pad straps
Hipbelt Features
Dual-Zippered pockets
Zippered pockets
Zippered pockets + Adjustable harness and Fit-on-the-Fly
Zippered pockets,
Stow-on-the-Go trekking pole attachment
Yes
Yes
Yes
Yes
LidLock bike helmet attachment
Yes
None
None
None

Blinker light attachment

Yes
(light not included)
None
None
None
Extra Features
Tuck-away ice ax attachment with bungee tie-off
Ice Tool, Dual front panel daisy chains
Dual ice tool loops, Sternum strap with integrated safety whistle, Integrated FlapJacket
Integrated FlapJacket, Dual ice tool attachment points, Sternum strap with integrated safety whistle
Available Colors
5
3
3
Product Review
Osprey Kyte 46 Review
Osprey Aura 65 Review
Learn More
Buy on Amazon
Buy on Amazon
Buy on Amazon
Buy on Amazon
Other Hiking Backpacks We've Reviewed:
Biking 
Whether you're an urban rider or a mountain biker, Osprey has got you covered with their ride-friendly packs. You have a choice between traditional backpacks, tote bags with shoulder straps, or foldable packs. All these are designed to make you comfortable while riding, so you can focus more on the road and less on your baggage. 
Osprey Backpacks for Biking You May Like:
Casual/Work/School Bags for Women
Kids tend to bring a lot to school; they have binders, notebooks, laptops, books, lunch, etc. With all these in mind, they need a Osprey Womens Backpack that can accommodate all their school stuff. Osprey has a line of school bags that have multiple compartments, a large storage capacity, and a laptop sleeve, without it being too bulky. 
These school bags for women can also be used in the office or for a day out. Most casual bags from Osprey are spacious enough to fit important documents and laptops in.
Related: Osprey Quasar vs Comet Work and School Backpack Review
Daypack 
These bags are usually smaller than your hiking packs, but a bit bigger than your school bags, which makes them perfect for a one-day hike or as carry-on luggage. It has enough storage to fit clothes, kitchenware, and other camping gear, while also being compact enough to fit under airplane seats or overhead bins. You can check out the best Osprey daypacks for women here. 
Related: Osprey Daylite Pack: A Day Travel Backpack Review
Other Types of Osprey Womens Backpack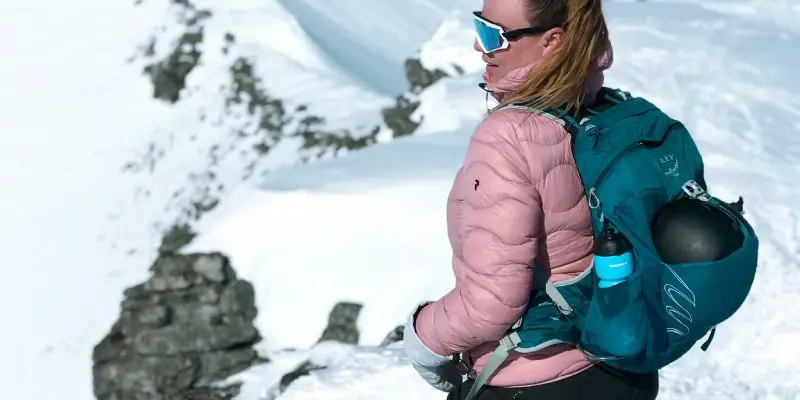 Aside from the ones mentioned above, Osprey has crafted different unisex backpacks for special uses. There are wheeled backpacks, ski backpacks, backpacks with kid carriers, and more. If you're not looking for a hiking backpack, here are some of the best Osprey Backpacks for women.
Best Osprey Womens Backpack
Backpacks
Osprey Fairview 40
Osprey Transporter Flap
Osprey Raven 14
Osprey Kestra 40
Preview
Best Use
Travel
Everyday Commute
Mountain Biking
Snowsports
Best Feature
Carry-On size
Padded 15″ laptop sleeve
Included BPA-free Hydraulics LT 2.5L reservoir by Hydrapak
A-frame and Diagonal Ski Carry
Volume
38 – 40L
20 L
60 – 65 L
77 – 85 L
Weight
3 – 3.1 lbs
1.788 lbs
1.63 lbs
3.88 lbs
Torso Length
17 – 20 inches
None
14 – 18 inches
13 – 20 inches
Hips (Circum)
24 – 45 inches
no details
26 – 49 inches
33 – 51 inches
Backpanel
LightWire Frame
AirScape™
AirScape™
Thermoformed Contoured
Compression Straps
Dual Front
None
Side compression straps double as a full face helmet carry
Dual upper and lower side
Main Compartment
Zip Access
Flap style, Opening With Aluminum Buckle Closure
Zip Access
Top load and dual zippered backpanel access
Compartment
3 + Main
Main + Side Pockets
2 + Main
3+ Main
Top Lid
None
None
None
Dual compartment top lid
Hydration Sleeve
External
(not included)
None
Internal
(included)
Internal, Insulated
(not included)
Front Panel Pocket
Dual stretch mesh pockets
None
Stretch Mesh Pocket + zippered stash pocket
Extra-large front panel j-zip access

Side Pockets

None
None
None
None
Hipbelt Features
Zippered Rear Flap
No pockets
Stretch Mesh Zippered Pockets
Dual Zippered Pockets
LidLock bike helmet attachment
None
None
Yes
None
Blinker light attachment
None
Yes
Yes
None

Extra Features

Lockable Sliders
Padded 15″ laptop sleeve
Loop for blinky light attachment + Bike tool organization
Tuckaway Ice Tool Loops, A-frame & Diagonal Ski Carry, Snowshoe Carry, Rope Compression, Glove Friendly 
Available Colors
2
3
3
1
Product Review
Osprey Fairview 40 Review
Osprey Flap Backpack Review
Learn More
Buy on Amazon
Buy on Amazon
Buy on Amazon
Buy on Amazon
You may like to read:
Osprey Backpacks for Women vs Men
So, what's the difference between Osprey backpacks for men and Osprey backpacks for women? We've listed down three points that you might find interesting about these custom-fit packs for the ladies. 
Smaller Frames
Since women generally have a smaller frame and narrower shoulders than men, packs made for women are designed with shoulder straps that are sewn closer together to ensure that your bag sits comfortably on your shoulder blades and back. 
Shoulder Straps and Pads
Men have broader shoulders than women. If you opt for a backpack that is designed for men, it might be uncomfortable for you as your bag's weight is not centered on your shoulder blades. An Osprey Womens Backpack also has shoulder pads that contours better to the female shoulder. 
Shorter Torso
Women usually have a shorter torso than men. An Osprey Womens Backpack is created with this in mind, so you'll notice that the shoulder straps and hip belts are closer together. However, you should learn how to take your measurements to find a pack that fits you best. 
Of course, the label "for women" is only there as a guide. What matters more is how comfortable you are with a backpack.
So, if your body fits a "men's" backpack better, then you should go for it! The same goes for men whose bodies fall under the smaller side; if they feel more comfortable with a women's pack, then nothing should stop them from purchasing that. 
Why Buy Osprey Womens Backpack? 
Backsystem Technologies
Osprey has an advanced back system technology that allows for a comfortable fit whatever you use their backpacks for. They have three backsystems, namely AirScape, AirSpeed, and Atmos Anti-Gravity. 
AirScape 
AirScape features a back panel with foam ridges made from breathable mesh for a comfortable fit. It also allows for breathable contact, ensuring that you'll be sweat-free when you sling your pack on your back. Osprey Womens Backpack with the AirScape technology are good for day-hikes and other casual outdoor activities. 
AirSpeed
Osprey's AirSpeed technology creates a space for maximum airflow between your back and your backpack through a 3D-suspended mesh. This ensures that trekking or biking will be a breeze! Osprey Womens Backpack with the AirSpeed technology are ideal for mountain biking and camping.
Anti-Gravity
This back panel technology is true to its name–backpacks that feature this system literally suspends all weight from your shoulders, back, and hips through a 3D-suspended mesh.
It puts most of the weight of your load on your waist, making your hike comfortable and sweat-free. Osprey Womens Backpack with the Anti-Gravity technology are best used for biking, trekking, or camping. 
Custom Fit for Women
Osprey has been creating Osprey Womens Backpack for over almost three decades now. That's three generations of knowledge of how the female body works and how it differs from men's bodies. While unisex backpacks are good, you can't deny that bags designed with your body in mind are more comfortable than traditional ones. 
Good Company, Even Greater Service
If you're looking for a stylish hiking Osprey Womens Backpack that is made from eco-friendly, sustainable material, has a lifetime warranty, and is of the highest quality you can get, then you should opt for an Osprey backpack for women. They also have hiking backpacks for men and children, so your whole family can join you in the wild!
Osprey Womens Backpack Cons
We've read through multiple reviews and asked some Osprey backpack users about their experiences with Osprey backpacks, and have come up with three "drawbacks" that we thought you should consider before buying. 
Their backpacks cost more
Quality does not really come at a cheap price. One of the setbacks of purchasing Osprey Womens Backpack is that it may cost you more than other brands, since durable and sustainable materials may be more expensive than subpar ones. Don't worry, though! Osprey has a great warranty system that offers free repair services regardless of when you purchased it. 
Their packs are not exactly lightweight
Osprey backpacks are not the lightest backpacks you'll find in the market. Since they're made from heavier, more quality material, they tend to weigh more than other brands, so don't expect it to be ultralightweight! If you need a really light bag, you can check some of their lightweight women's hiking backpacks on their website. 
One thing you should also know is that rain covers are not always integrated into their bags, compelling you to purchase the extra accessory for trekking in non-sunny weather. 
If these things are not a turn-off for you, then we encourage you to purchase your next backpack from Osprey.  
Osprey Womens Backpack: Volume Guide
You've finally decided that you're going to purchase a pack; good for you! The next thing you should consider is how much storage space you would actually need for your next hiking or camping trip. Here are two questions that you should ponder about before making your purchase: 
How much can your body carry? 
Before purchasing your Osprey Womens Backpack, it's best to check if your body can actually comfortably carry your bag and the items inside. Remember that you would have to carry that load for hours while walking on sloped trails, so if you're the slightest bit uncomfortable with the weight on your bag, you should opt for a pack with a smaller volume. You'd have to pack smaller, but trust us, it'll make your travel better!  
What should you pack? 
Many inexperienced hikers (and even those who've been trekking for years) make the mistake of bringing too many items and end up not using them. Here's a little tip we have for you: before packing your camping gear, ask yourself "Do I really need this?" You'll be surprised how many things you won't actually need when you're on the road.  
Be a smart packer and make a list of camping essentials to avoid overpacking! 
When choosing a volume for your Osprey Womens Backpack, it all boils down to finding a balance between what you can carry and what you should bring. Always keep in mind that you'll be walking for a long time with a heavy load on your back; the least you can do is make sure that your body remains comfortable during your trip.
Osprey Womens Backpack Sizes Guide
The Osprey Backpacks for women have a wide range of sizes. To find the backpack that best fits you, you should know these three main parts of your backpack.
Backpanel
As we've mentioned before, Osprey uses several types of back panels for each of its backpacks. The length of the back panel is one of the most important things you should consider if you want your backpack to fit you perfectly and securely, especially if you're hiking. 
The length of your backpack's backpanel system should correspond to the length of your torso. And the length of Osprey's Back panels range from 13 inches (33cm)  to 22 inches (56cm). 
If you're planning to buy backpacks online, you can measure your torso length at home. Some Osprey backpacks also allow you to adjust the overall length by sliding the harness up and down. 
How to measure torso for Osprey Womens Backpack? 
To measure your torso, tilt your head down and let a friend measure the distance between the top of your torso (C7 vertebra) and the top part of your hip bones (iliac crest).
If you're picky, unsure or if you fall between sizes, visiting a physical store is your best option. 
For more info about Osprey's specific backpacks sizes: See Osprey's Size Guide
Hipbelt 
It's important that approximately 80% of your pack's weight is transferred to your hips. This will make your pack more stable and allow you to have better form while hiking or walking. This is the reason why the size of your hip belt is also critical when buying a Osprey Womens Backpack.  
Osprey backpacks for women's hip size range from 24 inches (60cm) to 55 inches (140cm). And many of their backpacks have adjustable sizes as well. In addition to that, Osprey has designed their backpacks torso and hipbelt's ratio proportionally. That's why, usually if you have the correct torso length, you'll have the correct hip belt size already.
How to measure hipbelt size for Osprey Womens Backpack?
If you want the best fit and if you're buying online, you should measure your actual waist circumference. Take note that Osprey's backpack hip size is not the same as your traditional hip or waist size. And to measure your actual hipbelt size, just wrap your tape measure around your lower torso, just above your beltline.
Shoulder Straps
Last but not the least is the shoulder straps. Your front shoulders should bear only 20% of your pack's weight and your top shoulders should have 0% load. As we've mentioned above, the rest of your pack's weight should sit on your hips. This is to give you the best form, prevent you from being pulled backward when hiking steep terrains, and to prevent back injuries.
The good thing about the shoulder straps is that all of Osprey Womens Backpack have adjustable shoulder straps. That's why you don't need to worry about measuring your exact size to fit their backpacks perfectly.
FAQs about Osprey Womens Backpack
Where are Osprey backpacks made?
Osprey's main headquarters is located in Cortez, Colorado but their backpacks are made in Ho Chi Minh City, in Vietnam. Although these backpacks are made in Vietnam, the quality is as good as other backpacks made in the U.S. In fact, Osprey is one of the most famous backpack brand in the US and many users attest to the quality of their backpacks.
Are Osprey Backpacks Waterproof?
Although water-resistant, all hiking backpacks (not only Osprey's) are not completely water-proof. It is a good thing to bring a rain cover to add another layer of water protection.
Another great tip: If you feel like it will most likely rain during your hike, pack your belongings inside a trash bag or a plastic bag before placing them inside your bag. Although you may not be able to maximize your storage, this will completely waterproof your things especially if you're bringing gadgets while you hike.
How to Wash Osprey Backpack
If you have a backpack dirtied with mud, salt, sweat and stains, you should definitely wash it as soon as possible. If your Osprey backpack has a back panel, remove it first. Use a large basin to wash it and never wash using a machine.
Use a mild detergent to remove dirt and stains, preferably NikWax Tech Wash.You can use an old toothbrush or a soft brush to clean the zippers, straps and inner compartments. 
After mud and dirt have been completely removed, rinse thoroughly with cold water. Hang it to dry outside in the shade, out of direct sunlight or indoors in a ventilated area.
How to Attach a Trekking Pole to an Osprey's Backpack for Women?
All of Osprey Womens Backpack come with either a Stow On the Go trekking pole attachment or other types of trekking pole holders. If you don't need your poles, there are dedicated loops in the front panel where you can securely strap them
But if you need them regularly, the Stow on the Go attachment makes it easier for you to access them. To attach the trekking pole to your Osprey Womens Backpack, you just need to place the bottom part of your poles to the dedicated loops at the bottom of your pack. Then position the pole handle inside the attachment loop in shoulder straps. Adjust and tighten the cinch point to keep your pole in place.
Which Osprey's Women's backpack is most comfortable?
The most comfortable backpack for women shouldn't only have the best fit but also the best ventilation. One of the most loved backpacks when it comes to comfort is the Osprey Kyte 46. It is equipped with an Airscape Backpanel and mesh-covered breathable spacer foam for maximum ventilation. 
What is the women's version of the Osprey Atmos?
The women's version of Osprey Atmos is the Osprey Aura AG (AntiGravity). The AntiGravity back panel makes this Aura backpack version lighter than other backpacks that have the same volume.
What are Osprey backpacks made out of?
Osprey usually uses up to 3 different types of nylon fabric for each part of their backpacks. For the main fabric, they usually use Nylon Dobby. This type of nylon fabric is highly durable and constructed with a polyurethane back coating to make it water-resistant. But if you want to prevent rips and tears, choose a backpack like the Osprey Fairview that uses the more durable Nylon Diamond Ripstop fabric. 
For the accent or liner, they usually use High Tenacity Nylon (elastic) or Nylon Oxford depending on the use. These accent fabrics are usually waterproof, adding a second layer of water protection to your pack.
And last but not least is the bottom fabric of your pack. Almost all of the Osprey Womens Backpack use Nylon Packcloth. That's because not only is it waterproof, it's also abrasion and puncture resistant. A very good feature to have because most of the bottom parts of backpacks are prone to damage. 
How do you attach a sleeping bag to an Osprey Womens Backpack
The larger Osprey hiking backpack versions are already equipped with a sleeping bag compartment where you can store your sleeping bags. For larger sleeping mats, they also have loops and straps in the front panel where you can attach them. They are pretty easy to use. Just tie these straps around your rolled-up sleeping mats and you're ready to go.