Every year, newer and better tents are being made by popular camping manufacturers such as Coleman, Mountain Trails, and Wenzel. The dome tents featured in this review are some of the bestselling dome tents!
You may like to read: Clam Corporation 9281 Quick-Set Escape Shelter Review
What is a dome tent?
A dome tent is also known as a geodesic tent. What sets it apart from the other tents on the market is the fact that the top portion is held up by criss-crossing poles. Instead of the parallel poles that create a straight roof, the criss-crossing poles create a dome-like shape that tapers towards the top.
Although all types of tents have their uses, there are several reasons why one may choose to purchase a dome tent instead of a straight roof tent.
Easy to set up:
Due to their inherent design, dome tents are easier and quicker to set up. In fact, most could be set up by just one person. This is due to the fact that the poles are shock corded. In most cases, a dome tent can be set up in 15 minutes or less. Other types of tents usually take up to 45 minutes to set up.
More affordable:
Dome tents are generally more affordable since they take less tent fabric to make. Prices range from just under $50 to a little over $100. Other types of tents usually start from $100 and go up to around $300. Granted, there are some canvas dome tents that are a lot pricier due to the materials used but we have not featured here since they are not nearly as popular.
Stays up better:
Due to the aerodynamic shape of dome tents, it is easier for them to not get blown away in moderate winds. Of course, they still have to be staked down to the ground. But you will not need to use any weights to weigh them down on the sides. Their center of gravity is lower to the ground.
Moisture resistance:
Since rain and snow will slide down the sides of the tent instead of accumulating on the roof, there's less of a chance that it will seep through the material during inclement weather. This also helps to maintain the structure of the tent and makes it last longer.
Lighter weight:
Since dome tents taper off at the top, less fabric is used. This means that they tend to weigh less and can be carried more easily. However, keep in mind that the dome shape also means that it is less practical to stand up around the edges of the tent. But it is great for backpacking since other types of tents will usually be too heavy to carry in a rucksack.
---
Most Popular Dome Tents
As this review is about the best dome tents, we have decided to base it on the ones that are the most popular in 2016. One of the benchmarks for this is how many sales they are getting on Amazon. It is also based on how many positive reviews they are each getting. A link to each of the customer review pages for these tents will be provided here.
Below are the best dome tents (in our opinion) in no particular order.
Coleman Sundome Tent
Coleman is known as one of the most popular camping gear companies today. They create high-quality camping products at an affordable price. The Sundome tent is one of the most affordable tents that Coleman has available. There's only a $50 difference between the 2 person Sundome tent and the 6 person Sundome tent.
Sizes:
The Coleman Sundome tent comes in 4 different sizes: 2 person, 3 person, 4 person, and 6 person. The biggest Sundome tent, the 6 person one, measures 10 feet x 10 feet x 6 feet (in height). The 6-person Sundome tent is big enough that 2 queen-size mattresses can easily fit into it. However, as with most dome tents, this one does not allow for a taller person to roam around around the edges of the tent without needing to bend their heads.
Coleman Weathertec system:
Coleman's trademark waterproofing system is called Weathertech. Weathertech products have wonderful scenes and seals around the stitching and the zippers that prevent water from leaking through. Furthermore, the Sundome tent rainfly extends beyond the front door so that droplets of rain do you not fall on your head as you are entering or leaving the tent after a rainstorm.
10 minute set up:
The Sundome tent's Insta-Clip poles facilitate the setup with only one person. With practice, set up gets easier and you can set it up in under 10 minutes.
Lightweight:
The Sundome is one of the lightest tents available today. Even the 6 person tent version of the Sundome weighs only 18 pounds. This makes it easy to carry to and from the car. With the 2 person Sundome tent, you can stuff it in your rucksack while you are hiking.
---
Wenzel Alpine 3 Person Tent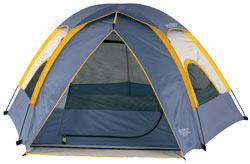 The Wenzel Alpine 3 person tent is great if you are backpacking with two or three people and you need a very lightweight tent to carry in your rucksack. It is also one of the most affordable tents available at just around $60. Despite its lower cost, the Alpine 3 person tent has very positive reviews.
Size: Measures 8.5 feet X 8 feet X 4 feet (in height)
Very affordable:
The Alpine only cost $60, which is $50 less than most 3 person tents being sold on Amazon.
Extra light:
The Alpine weighs only 8 pounds, which is far lighter than most 3 person tents. As mentioned above, dome tents are generally lighter due to their shape.
Pentagon shape:
The Alpine comes in an attractive pentagon shape that is held up with three poles.
Mesh low to the ground:
There are two mesh windows on the sides that allow for ventilation. The mesh windows are unusually lower to the ground but this is an advantage if you enjoy sleeping while having extra air being pushed towards you. This could come in handy in the summer when you are hot and condensation is building.
---
Mountain Trails South Bend 4 person tent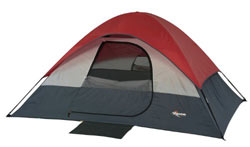 The Mountain Trails South Bend 4 person tent come at a more affordable price than most other tents on the market. As with the other dome tents, it is less expensive because less material is used. This tent is made for four people and can be carried around in a rucksack.
Size:
The South Bend tent is 4 feet x 7 feet with a height of 4.3 feet. It stands lower than the Sundome tent and the height of the South Bend will prevent most people from standing upright inside. However, sacrifices are made if the tent will be carried around easily while hiking. A queen-sized mattress can fit into this one with a little bit of space left over for gear.
10 minute set up:
You can set up the South Bend tent in less than 10 minutes by yourself. This is one of the advantages of a dome tent.
Gear loft:
There is a gear loft built into the interior of the tent that allows you to store your gear while preventing it from getting wet.
Lightweight:
This tent was made with the backpacker in mind. It is ultra light and is ideal if you will be housing several people but are going to carry this around while you are hiking.
---
Wenzel Ridgeline 3 Person Tent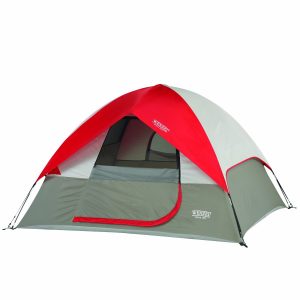 The Wenzel Ridgeline is a lightweight 3 person tent that can be carried by a backpacker. Like the other dome tents above, the Ridgeline is on the more affordable side of 3 person tents. It has all the same basic design features as the others featured in this review and has very positive customer reviews.
Size:
Although the Ridgeline is meant to hold 3 people, you can carry this around even if you are a solo backpacker as it will give you extra space to store all of your gear and give you plenty of room to move around.
Weight:
The Wenzel Ridgeline weighs 7 pounds and 4 ounces. This is lighter than most of the other dome tents featured in this review. You can put this tent in your rucksack or in the back of your bicycle as you are travelling long distances.
Swinging D-Style door:
The swinging D-Style door makes it easy to go in and out of the tent without needing to zipper it up every time.
Gear loft:
Need a place to store your camping gear? The Ridgeline has an internal gear loft where you can store your gear out of the moisture and out of the way of your sleeping bag or mattress.
---
Which dome tent to buy
All of the dome tents featured here are popular products that have been widely reviewed by customers on Amazon. They all have very positive reviews and a large following.
As all of the above dome tents are fully featured and are very similar to each other, it can be difficult to choose between them. The biggest difference is in the sizes. For instance, the Coleman Sundome tent comes in sizes ranging from 2 person to 6 person tents. However, the others featured here are 3 person or 4 person tents. Which to choose can depend on the look of the tent such as with the color or the shape. But if you are going to be utilitarian about your choices, picking a tent based on weight and size might be your best option.
If you want further information on what customers have to say about all of the above, you can view the customer reviews from verified purchasers on Amazon.
You may like to read: 9 Best Backpacking Tents