If you are a frequent traveler, you already know the pitfalls of carrying regular suitcases. Suitcases tend to be heavy and have many compartments. Even with a large-sized suitcase, you will not be able to carry as much as with a duffel on wheels. Duffle bags allow you to pack more but have a slimmer profile.
It is easy to see why some travelers choose duffel bags over suitcases. A duffel bag is generally lighter than a suitcase, which means that it will not break the bank when you are checking it in at the airport. Also, because it includes fewer compartments, it allows for more room to pack your gear.
If you are going to be going away for more than just a couple of days at a time, and only want to pack one bag, a rolling duffel bag might be for you. Having a duffel bag on wheels allows you to pack heavier gear, while still being able to lug it around with you. This helps prevent back sprains and increases the amount of time that it takes you to get from point A to point B.
What are Drop-Bottom Rolling Duffels?
A drop-bottom duffel bag is normally divided into two halves; one at the top and another at the bottom. This provides for more compartments, allowing you to organize your gear. Each of these compartments has its own opening, which you can access from the outside through a zipper. You can open your duffle bag at the top or at the bottom.
The best practice with these drop-bottom duffel bags is to fill the bottom with your heavier gear. This way, it will not tip over while it is standing upright. The top portion of the duffle bag can be filled with your clothing and larger items.
A good drop-bottom duffel bag will stand upright on its own. This is because it is attached to a rolling frame. This rolling frame has a telescopic handle that adjusts for your height.
Related: 5 Best Waterproof Duffel Bags 
Top 5 Drop-Bottom Rolling Duffels
We have chosen the following 5 wheeled duffel bags based on popularity, value, durability, and ease of use. We have included our favorite ones first, but all of them have their advantages.
Here are our pics for the best rolling duffel bags.
eBags TLS Mother Lode 29-Inch Wheeled Duffel
This one is our favorite wheeled drop-bottom duffel bag. The organizational layout of this duffel bag is outstanding! This bag is divided into two halves; one at the front and one at the back. The back half has 3 dividers so that you can store your items without them getting mixed. These dividers are held by velcro and can be placed anywhere along the compartment to create different sized compartments. This is only one feature of what makes the TLS Mother Lode wheeled duffel bag great.
Organization
Inside the back compartment are two other internal mesh pockets. Above the back compartment is a separator between it and the top compartment. The separator is completely removable to allow for the packing of larger items. In fact, if you need even more room in this duffel bag, you can allow for two extra inches of width by undoing the compression straps.
The compression straps allow the bag to act like an accordion. If you want a slimmer profile, buckle the straps. But if you're going to need more room, undo the straps and expand the bag.
The bag has a top organizer pocket where you can put the smaller items that you will need on a regular basis. It also has two side pockets that are large enough to store some coats and other large items.
Construction
The wheels on the duffel bag roll quietly. They are made of a type of material that will not make a lot of noise while rolling. They also set wide apart, almost extending beyond the size of the duffle bag to allow for ease of rolling. This is a better design than with other duffel bags.
This duffel bag is made with very durable polyester. It is a 840D and 900D twisted poly, making it a thicker fabric than most backpacks. This wheeled duffel is made of premium materials, such as premium YKK zippers, wheels, and handles. The zippers have photo reflective cords for when you use this duffle bag at night.
This is one of the largest duffel bags that we have reviewed. The upper compartment's dimensions are 28.5″ x 16.5″ x 9″ and lower compartment, 28″ x 16.5″ x 6″. Needless to say, this will not fit into the overhead compartment of an airplane. You will definitely need to check this one in.
If you are not happy with the quality of this duffel bag, it comes with a lifetime warranty.
Samsonite Luggage 35 Inch Ripstop Wheeled Duffel
The Samsonite Ripstop wheeled duffel is one of the largest that we have reviewed. It only comes in one size, which is approximately 35 inches long. What is great about this is that while it provides plenty more room than others, it is also half the price. It is made with 100% nylon material, which is very durable. If you would rather purchase the same duffel bag in a 30-inch model, please see here on Amazon.
Keep in mind that this duffel bag is very large. But you could still store it under a hotel bed, as long as it is empty. This duffel bag is large enough for two weeks of travel. You do not necessarily need to bring another suitcase because this has plenty of room. Due to the fact that it is light in design, it will not go over the weight restrictions on a flight.
This bag has a strap at the top so that you can attach other bags by their handles. This prevents you from having to carry other bags on your shoulders, as you can carry them along with the wheeled apparatus. The wheels are very smooth-rolling, and will not lock up while you are trying to take tight turns.
Inside of the main compartment is multiple organization pockets so that you can divide your things. Inside the carry handle is a name tag that you can use to identify your bag.
High Sierra AT3 Drop-Bottom Rolling Duffel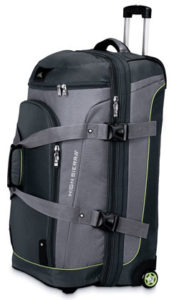 The High Sierra AT3 wheeled duffel is made with highly durable nylon and a Duralite Tech weave. This is the sort of thing that will give you plenty of durability at a very affordable price. Its length is 32 inches, making it one of the larger duffel bags. It carries 128 liters of gear, making it adequate for two weeks of travel. The main compartment has front-load access and can be expanded by two inches. The main compartment acts like an accordion. While it is not packed full, compress it by using the compression straps. If you unbuckle the compression straps, you can expand it to fit more things.
At the top of the duffle bag is a front accessory pocket that is zippered to ensure that it is secure. There, you can store the smaller items that you will be retrieving frequently.
There are also hidden padded straps to mimic a backpack. This resides behind a zippered back panel, can you use the straps for carrying it across the airport quickly.
High Sierra AT3 26 Inch Drop-Bottom Wheeled Duffle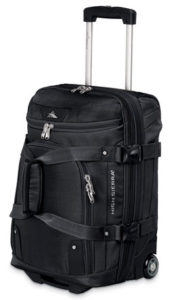 The High Sierra AT8 26″ wheeled duffel also deserves an honorable mention. We love the High Sierra line for how balanced their drop-bottom bags are. One of the things that we like most about these is that they are very durable, but only half the price of other drop-bottom duffels. This 26-inch model will still not fit into the overhead compartment. But this is because it has plenty of room for at least one week's worth of travel. The decision to purchase one of these two duffel bags is usually based on the size that you will need.
Both the High Sierra 26 inch duffel and the High Sierra 32 inch duffel are almost identical in design. They both come with the same color options and are made with the same materials. This one will also expand two inches to give you extra room for more gear.
Like its 32 inch counterpart, the Sierra 26 inch can be used a wheeled duffel bag, backpack, or as a separate duffel.
Eddie Bauer Unisex-Adult Expedition Drop-Bottom Rolling Duffels
Are you a female who enjoys the luxury of having a duffel bag with a mildly feminine design? Most drop-bottom rolling duffel bags are designed in such a way that they are not distinctly feminine. The Eddie Bauer Expedition is a unisex duffle bag. This beautiful bag comes in six different colors. Half of these colors are suitable for men, and the other half are uniquely feminine.
This drop-bottom rolling duffel is specifically made to be very durable. It is made of a very tough ripstop nylon that is reinforced with ballistic nylon. This nylon material will further enhance the water-resistance of this bag. While the material is quite thick, the weight is minimized by design. This duffel bag only weighs 4.54 kilograms.
Unlike some other rolling duffel bags, the Eddie Bauer Adult Expedition was designed to stand upright even while it is not being held by a person. It stands on its wheels and does not tip over, even if it is empty.
This duffel bag carries 45 liters of gear, making it a medium to large size compared to other duffel bags. This is not the largest duffel bag that you can purchase. In fact, its slim design only measures 21″ x 14″ x 10″. This is significantly smaller than the eBags TLS Mother Lode. The benefit of this is the fact that it is lighter. So if you do not need to carry gear for over a week, then this duffel bag is sufficient.
Where to go from here
Above, we have listed the best drop-bottom rolling duffel bags that we could find. These duffel bags have great value, so you won't need to break the bank purchasing a brand-name product. If you do not feel compelled to purchase any of the duffel bags listed above, there are plenty more to choose from. The above are simply some of the most popular duffel bags out there. They are generally very durable and made in high-quality designs.
For more examples of drop-bottom duffel bags, please see here on Amazon.