If you are an avid biking enthusiast who is frequently on the road, then you should have a bicycle, cycle, or a bike rack with you at all times. Every bike and car owner knows the struggle of trying to fit all your gear inside the trunk, especially for a relatively small car such as the Honda Accord. That is why it's a big convenience for car owners to have a dedicated bike rack to safely and easily store their bikes on mobile. In this article, we are going to look at options for the best bike rack for Honda Accord that you can buy.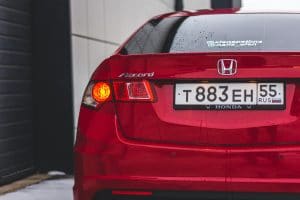 Looking for the right bicycle rack can be a somewhat tedious task particularly when you don't know what you're looking for. It pays to be familiar with the different types of bike racks out there in the market. Luckily before we proceed with each product review, we will discuss first the different types of bike rack for Honda Accord.
Different Types of Bike Rack for a Honda Accord
It doesn't matter if you're a casual biker, or a ride or die type of cyclist. Either way you are still going to need a bike rack that would fit your Honda Accord. With that being said, let's hop on to the different bike racks you could find.
Roof Racks
Roof bike racks have 3 subtypes in this category. The first one is the complete roof rack that can be installed on the roof of your car as it is. Next, there is the so-called tray style roof rack that attaches to the cars factory default crossbar or side rails. Finally, there is a suction cup roof racks that creates a vacuum seal attachment to any surface of the car particularly the roof and glass.
You can load up your bike on the roof rack with or without having the need to remove the front wheels. One major fail point of this type of bike rack is that you might sometimes forget that you have put your bike on the roof rack as you make your way into the garage. Also, you have to make sure that you can carry your bike over your head as you will be needing some level of strength to lift your bike over your head.
Hitch Racks
Hitch racks are widely considered the most preferred type of bike rack. This is largely due to the convenience of not lifting your bike over your head for loading. Hitch bike racks attaches directly to the car's receiver hitch at the rear end. The upgraded versions of the bike racks we currently have are collapsible which can be folded up and down for trunk access.
In addition, hitch racks, most of the time, have integrated locks already to secure the bikes in place. One disadvantage of having a hitch rack is that it increases the overall length of your car essentially reducing the rear and ground clearance. This could also create some slight parking issues especially when doing a backward maneuver or a parallel parking.
Trunk Racks
Trunk racks, as obviously stated on its name, attaches to the trunk of your car by means of multiple straps and hooks in conjunction with a foot support for added stability. Installing this type of bike rack can be a bit confusing since cars are shaped differently and have varying attachment points. On the positive side, it's very convenient to remove and store.
Some other things to watch out for are possible damages or scratches on the surface of your car since the pedals and wheels are freely moving and unstable. As mentioned before, the main concern for trunk racks are the attachment points. Trunk racks are not compatible with every car especially for cars with added spoilers and accessories that may disrupt attachment.
Tailgate Pads
Tailgate pads are the most common bike rack used by pick up trucks. They are the easiest to install because they don't require tools to do so. Both sides of the tailgate of the truck are covered to let you carry multiple bikes at a time. Also, tailgate pads use Multiple straps and hooks to attach the pad over the tailgate.
The linings of the tailgate pad also serve as a rear wheel tray for your bike. In essence, they are the least expensive option for bike racks. Do not be too reliant on durability since tailgate pads are only made out of soft, tearable material such as polyester fabric, foam, and soft fleece inner lining.
The Best Bike Rack for Honda Accord
If you're searching for the best bike racks for your Honda Accord, have a go at this list and find yourself the right one. The biking community is reaching its peak, and the demand for bike racks are going on the same trend. Let's have a look at some of the best bike rack you can buy out there!
You can also check out: The Best Rav4 Cycle Racks 
Walmann 2 Bike Rack Hitch Mount
The Walmann 2 Bike Rack Hitch Mount is a recommended bike rack for biking enthusiasts as well as casual riders. It's performance is largely credited for usability and affordability. You don't have to worry because this Walmann bike rack will carry most types of bike on your Honda Accord.
This hitch mount rack will fit perfectly on a 2-inch hitch receiver. In addition, you can still access the trunk of the Honda Accord easily. This is due to a quick release 45-degree tilt action that will be sufficient for accessing the trunk compartment particularly in most sedans such as the Accord.
The individual tie-down system on both arms keeps the bikes secure and protected. This will stabilize the bikes as you travel, essentially eliminating the sway movement as you drive. The optimized dual arms are versatile which can accommodate a wider range of bike frames and wheel sizes with the exception of some smaller bikes. This rack is very easy to install and it features thick steel and high-strength bolts to ensure stability and durability.
---
Allen Sports Deluxe 2-Bike Trunk Mount Rack
The Allen Sports Deluxe 2-Bike Trunk Mount Rack is a simple yet sturdy bike that is very easy and safe to use. This rack is also lightweight which features a tie-down system for added stability while mounted on your Honda Accord. This Allen bike trunk rack provides enough space away from the car to prevent paint scratches from both the car and the bikes as well.
One thing we like about this rack is that it's pre-assembled and can be mounted in less than an hour. The single configuration design setup eliminates the hassle of installation. Also, you don't need to remove the bike rack on your Honda Accord when not in use; you can just simply fold it up.
The patented lateral tie-down strap system works without having the need of other external parts from the Honda Accord. This bake rack is also compatible with a wide variety of bikes of different sizes and types. Overall, the Allen Sports Deluxe 2-Bike Trunk Mount Rack is an excellent choice of bike rack for Honda Accord.
---
Saris Bones EX Trunk Bike Rack Carrier (3-Bike)

The Sari Bones EX Trunk Bike Rack is a 3-bike carrier that's a solid partner for your Honda Accord. It's design is very unique compared to other standard trunk bike racks. Moreover, this rack does not require a receiving hitch to mount which is quite impressive for a 3-bike trunk rack.
The total load capacity of this rack is north of 100 lbs, at most 35 pounds per bike. On top of that, the Saris Bones EX Trunk Bike has the highest vehicle compatibility of any trunk rack in the market. In addition, the integrated straps make sure that there's no flapping. Also, the ratchet straps easily fasten the bike to the rack, and has ample separation between bikes thanks to its arc-based frame design.
The Saris Bones EX Trunk Bike Rack will gel instantly with your Honda Accord. Likewise, it fits nicely on the car's back and is very easy to store. You don't have to remove any part of your bike to use this trunk rack. At 11 lbs, it is incredibly lightweight which makes it ideal for smaller cars such as the Honda Accord.
Buy on Amazon
---
Hollywood Racks Express Trunk Mounted 3 Bike Rack
The Hollywood Racks Express Trunk Mounted 3 Bike Rack is an excellent bike rack that uses a tension point system which will not require additional parts. It can hold up to 35 lbs per bike having a grand total weight capacity of 105 lbs. This is pretty solid for such a small-framed bike rack.
This rack is aesthetically pleasing to look at, and is a little heavy-duty at the same time. The rubber bike cradles and industrial-grade rubber straps hold the bikes firmly. One concern with this rack is that some smaller bikes such as kids and ladies bikes may require an adapter tube to be able to fit on the rack.
The Hollywood Racks Express Trunk Bike Rack can be pre-assembled when shipped which is one less thing to worry about. Also, when on idle, you can fold it down and easily stored in a safe place. At 10 lbs, this rack is ultra lightweight and is highly portable.
---
Swagman XC2 Hitch Mount Bike Rack
The Swagman XC2 Hitch Mount Bike Rack is one of the few hitch-style bike racks on this list. It can easily carry up to 2 bikes of 35 lbs each, and fits 20 to 29-inch tires. With at least three contact points, the bikes will stay firmly mounted on your Honda Accord. On the flip side, having multiple contact points means that there is frame contact.
This rack will only steal a few minutes of your time for installation; it's relatively easy. In addition to this, the ratchet arms are adjustable to accommodate different bike frame sizes. The sleek and sturdy frame design has an integrated anti-wobble hitch pin at the base to keep the bikes from swaying. Also, you will not worry about storage because this rack can easily fold into a compact mode when not in use.
The Swagman XC2 Hitch BIke Rack is a very versatile bike rack given it's compact design. At the same time, it still leaves enough room for trunk access on the Accord. For it's price, this hitch rack offers great value for your money.
---
Thule UpRide Universal Bike Rack
The Thule UpRide Universal Bike Rack is a great roof-mounted bike rack especially designed for much smaller vehicles such as the Honda Accord. Like most Thule products, it delivers high quality at a slightly higher price range. This roof bike rack has a sleek and elegant design that would go well on the car. Keep in mind that your Accord must have a roof rack pre-installed for this bike rack.
This roof bike rack securely holds the bike without any frame and fork contact. Furthermore, you don't have to remove the front wheels of your bike when you use it, which is a great convenience. It's still considered lightweight at only 18.5 lbs. Also, the versatility is top-notch, capable of carrying electric bikes. In addition, it can accommodate bigger wheels and tires by adding an UpRide Fat Bike Adapter. In addition, the three campling points of the UpRide are easy to tighten and loosen.
The UpRide's installation procedure and removal is very simple and tool-free. This also goes with storage as the Thule UpRide features collapsible rams and cradles. Unfortunately, you should purchase a separate lock system although it has an integrated cable that can extend out to the rear tray. Other than that, the Thule UpRide is a great option for lower vehicles and lighter bikes.
---
Tyger Auto TG-RK1B204B
The Tyger Auto TG-RK1B204B is another excellent trunk bike rack option on this list. This rack is one of the highly-rated trunk racks, and it does not come in cheap.The Tyger Auto is one robust trunk rack with sturdy construction capable of carrying up to 55 lbs. It also has a 2-bike and 3-bike versions should you wish to carry more than one bike.
One thing to look out for is that it won't fit your Honda Accord when there's a rear spoiler attached. On the flip side, the padded lower frame gives ample distance for the bikes from your car. The individual soft cradles and safety straps gives added protection to your bikes, and securely holds your bike/s while on the road. Also, the ratchet buckles will give added stability.
The Tyger Auto TG Trunk Bike Rack is as sturdy as it can get because it's rust resistant because of its E-Coating technology. Moreover, the foldable arms are also convenient for you to access your trunk. This trunk rack is a superb choice if you want a reliable trunk bike rack.
How To Install A Bike Rack For Honda Accord
Here's a quick demonstration video on how to install a hitch bike rack on your Honda Accord. This will help you get an idea on how to approach installing a bike rack on your car particularly for a hitch-style bike rack. Click on the link below.
Hitch Bike Rack Installation on a 2013 Honda Accord
If you wish to read more about the product featured on this video you can check out: Thule Hitching Post Pro – Folding Tilting 4 Bike
FAQs About A Bike Rack For Honda Accord
Do the different models of the Honda Accord universally fit any bike rack you have?
We can never know for sure unless you research beforehand the compatibility of your chosen bike roof. You can do this by going to the manufacturer's website to check for the necessary specs. Most hitch bike racks and roof racks are compatible with any Honda Accord provided you have a hitch receiver and roof crossbar, respectively.
Are there trunk mounted bike racks available for the 2021 Honda Accord?
Fortunately, there are many options for trunk-mounted bike racks that would fit your 2021 Honda Accord. We recommend trunk racks from Saris such as the Saris Bones 2 Bike Rack.
Can you get a hitch receiver for the 2020 Honda Accord?
Although the stock 2020 Honda Accord does not come with a receiving hitch, you can absolutely buy and install one for your car. Thule has a couple of independent hitches you could buy for a sedan.
Is there a way to carry a recumbent bike and a regular bike on the 2018 Honda Accord?
There is a solution should you want to carry a recumbent bike and a regular bike. This is it not with just a hitch-mounted bike rack. You can use a combination of any single hitch bike rack you have and a heavy duty roof rack. One suggestion is the Thule WingBar to carry the recumbent bike on the roof.
Can you use a 4-bike roof rack on the Honda Accord?
Although some bike racks can carry up to 4 bikes, it doesn't mean that it is compatible with every car out there. We recommended to limit your bike carriage of up to 3 bikes on the Honda Accord. A car such as the Accord has relatively low ground clearance compared to the bigger SUVs and pick-up trucks.
Wrapping Up On The Best Honda Accord Bike Racks
To wrap it all up, the Honda Accord bike racks come in a wide range of styles, brands, and price range. There are countless options available other than the ones featured here. Thankfully, we have narrowed it down, and picked out the best bike racks suited for your Accord. There are a number of things to consider such as durability, affordability, performance, and compatibility among others.
We couldn't just recommend one rack, so that's why we have laid out the features of each bike rack in this review. Use this review as a guide to buy yourself the right back for your Honda Accord. It will be a lot easier if you know where to start. Hopefully, you would end up with one of the products which have featured here for you.