Food is always a concern when camping. When you are out in the wild, making the most of your nutrition is always a calculated thought. With no refrigeration, grocery stores, or kitchen supplies at your immediate disposal, your limited resources can quickly spoil. That's why in this article, we'll give you the best tips to keep your food fresh while camping
There are three main aspects of food preservation that we'll be touching on today: Temperature, Moisture, and Bacteria. We'll also be including some camping supplies you might want to consider buying before going outdoors. 
You may like to read: Datrex Bars 3600 Calorie Emergency Hiking Food Review
Temperature
Without modern refrigeration, food can quickly spoil. Camping is often about being connected to nature and "roughing it," so this is a reality that many outdoors people deal with. The best way to mitigate temperature changes is with a well-sealed container, ideally, in layers. Having a layer of cooler inside a larger container can make your perishables last a little longer.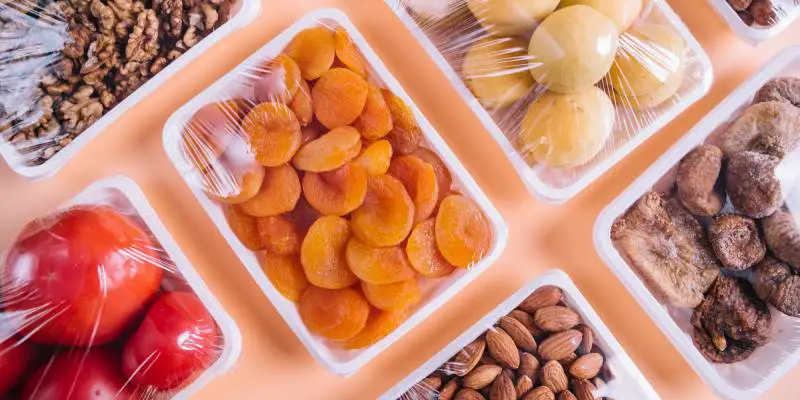 Keep your food out of direct sunlight to avoid spoilage. Heat can cause your food to become moist, and moisture can spoil your food. You can also try digging a small enclave to store your containers in and help lower the temperature. Placing your perishables in shadows and reducing exposure to direct sunlight can help avoid spoilage by lowering the temperature. Here's a little rule of thumb: moderate to high temperatures cause food to spoil faster. 
Depending on where you are camping, ice may or may not be accessible. Fashioning a container or cooler with ice can act as an icebox – ice can last for days under the right conditions. A well-sealed cool container can go a long way in preservation. Be careful not to open the icebox for long periods, though; you don't want melted ice in your containers. 
Moisture
In addition to reducing temperature with a well-sealed container, you also want to reduce moisture. As mentioned above, moisture can cause food to spoil quicker. You can avoid this by drying, curing, or storing food in air-tight containers. Tiny droplets of water can quickly become the perfect home for bacteria.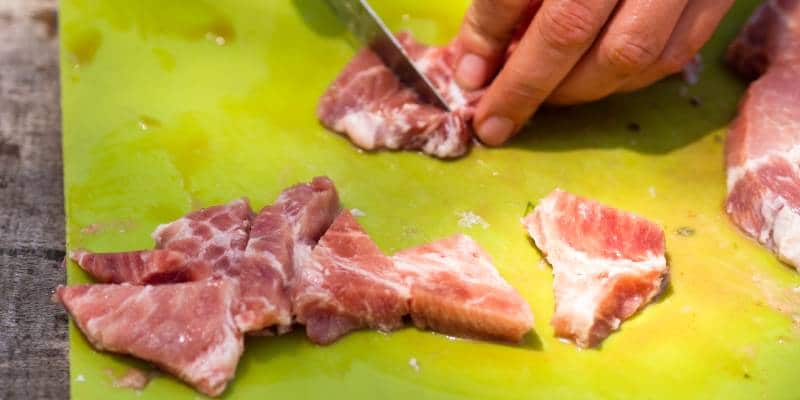 Reducing moisture is a vital part of preserving dried foods such as bread. Be careful to keep your perishables foods well covered and dry. You can use wax paper or food-grade cellophane wrap to separate food and create moisture-absorbing barriers.
Bacteria
Bacteria thrive in a temperature range often called the "danger zone." This refers to 4.4 Celsius to 60 C or 40 Fahrenheit to 140 F. With this range in mind, you need to take the appropriate steps to reduce moisture and temperature.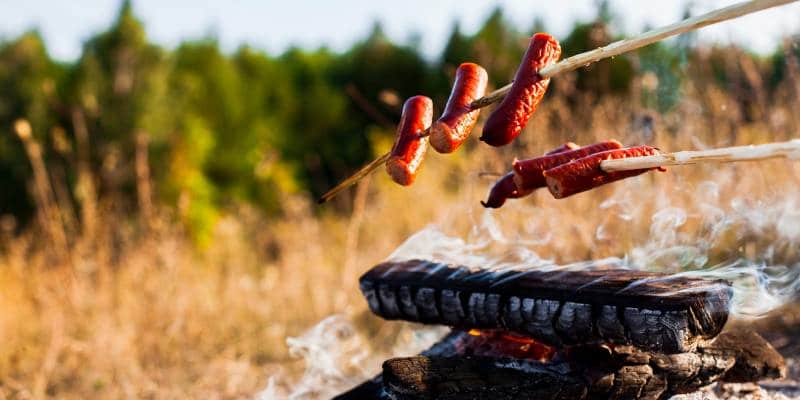 Cooking food thoroughly at a high temperature, such as over a campfire, will kill most bacteria. This is especially important with meat, so don't forget to check if it is cooked through.
Vacuum sealed containers and icebox/cooler are important in this regard. Keep your food out of heat and direct sunlight, and take the appropriate steps to slow/reduce bacteria growth.
Keeping Food Cold While Camping
Food preservation is not just about finding the right temperature to keep your food from being too cold to be indigestible or too warm to cause moisture. It's also about finding the right tools to make your food last. Not because you're out camping outdoors does not mean that you should deprive yourself of essential kitchen equipment. It might even make your life easier! 
Hard Coolers
Hard-shell coolers are usually what your family uses during barbeque nights or a day at the beach. In my experience, it's usually where I can find the soda cans and beer bottles chilling. The thick, rigid walls of this type of food container allow your frozen goods to stay frozen or cool for an extended period.
Keep in mind that how long they will remain cold depends on their size and thickness. One advantage of the hard-sided coolers is that they have plenty of storage–ideal for those long camping trips. 
Soft Coolers
Soft-sided coolers are more like a lunchbox, both in size and material. For soft-sided coolers, portability is the name of the game. It is small and soft, making it perfect for trekking and placing it inside your camping backpacks. Most soft-sided coolers also have insulated padding to keep your goods chilled or warm. 
The most pressing question now is, what should you get? If you're camping with a large group where you can have an extra set of hands, then you can opt for the heavier, hard-sided coolers. They're also ideal for multi-day trips. On the other hand, if you're going to hike before reaching your campsite or you're only out for a day, then it's best to pick the soft-sided ones. They're also ideal if you're a bit short on your budget. 
Tools to Keep Food Fresh
Cooking in the wild is a part of the camping experience. It tests your skills and patience as your usual kitchen gear lies at home. One of the essential cooking equipment for camping is portable stoves. These burners are compatible with small butane cans, although it generates more waste than your usual campfire. You should also invest in a small skillet, pan, or pots to cook on. 
Aside from large food containers and coolers, one thing that you should purchase is air-tight food containers. They keep food from spillage and can be used even when you're not camping. Rule of thumb though, make sure that it's completely dry before storing anything.  
In Conclusion
With the correct preparation and steps, you can keep your food reasonably fresh while camping. Reducing moisture for dried foods and keeping your supplies out of the bacteria "danger zone" (60-140F/5-60C) will go a long way in preservation.
A well-made cooler and mindfulness while cooking meat over a fire will reduce bacteria and make your supplies go the distance. You may also opt to purchase kitchen tools to keep your food fresh a little longer. You may choose between hard-shell containers or soft-sided coolers. If you have a talent for cooking, you might also want to invest in a portable camping stove.