Over 100 years ago, W.C. Coleman decided to found a company selling camping gear that is a notch above the rest. It started with lanterns, and quickly expanded to various other products, including canopies. That's why in this Coleman Canopy review, we have compiled a list of Coleman's best Instant canopies.
You may like to read:
Coleman Instant Canopy Features
Instant Set-up:
Coleman's Instant canopies are designed so they can be set up in less than 3 minutes. The canopy locks offer 'comfort grips' that prevent your fingers from getting pinched when locking the steel poles into place.
50+ UV Guard Sun Protection:
The canopies' 150D material is capable of 50+ UV sun protection. This is important if your party will be staying outdoor for more than 1 hour. Sunburns happen even through thick materials.
Wheeled carry bag:
The wheeled carry bags that come with the canopies allow for easy insertion of the product without needing to force them into the bag. Once the canopy is stored in the bag, it can fit into most cars.
Steel Poles:
Made from aluminum or alloy, the steel poles of these Instant canopies are durable and surprisingly light.
Straight Leg vs Slant Leg Canopy
Coleman offers both straight leg and slant leg canopies. Both of these types of canopies have their advantages and disadvantages. If you're looking for a more stable canopy, go for the slanted leg canopy. The only disadvantage is, because of its configuration, you can't combine two tents together because there will be spaces in between.
On the other hand, the straight leg canopies are what you usually see in farmer's markets or events. Their shade will cover the exact space between its legs and can be built adjacent to buildings or a similar straight leg canopy. The only disadvantage is it is less stable compared to the slant leg canopy.
Welded Steel Feet:
The feet are welded at the bottom in order to provide a smooth surface on which to lay the canopy if you are setting up on a hard surface like asphalt.
Comfort Grip:
Coleman's comfort grip mechanism helps prevent pinching of the hands when setting up the canopy.
Coleman 13×13 Instant Canopy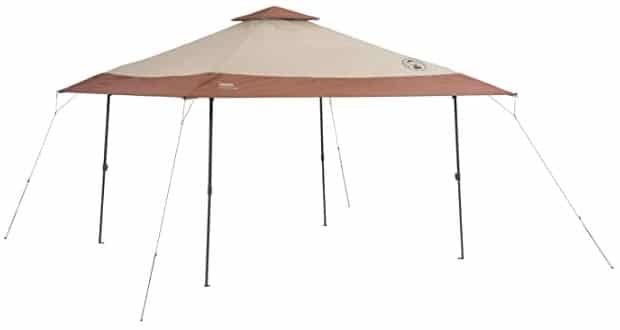 The Coleman 13×13 Instant Canopy, as the name suggests, can be put up very quickly. It takes under 3 minutes to set this up and can be done by 1 person. Due to the way it is designed, you don't need to stretch upwards in order to snap the canopy in place.
Here are some of its features:
Spans 13×13 feet: The Coleman Instant give 169 square feet of shade. The height is also pretty impressive. A 6'2" person can stand under the outer edges of the canopy and not have to bend their head.
Hexagon shape and vaulted ceiling: The hexagon shape gives it an alluring look, as it is not just a regular square like many other canopies. The vaulted ceiling also gives it a nice touch and more room in the middle for extra air.
Vent releases: The top middle portion of the canopy has a vent release. Not only does this allow more air to circulate underneath, it also helps prevent the canopy from flying away in heavier winds.
Distinguishing Features:
Stylish hexagonal shape
Extended edges create more shade area
Low-angle sun protection
Vented roof
Negatives:
Can fall or lift if not staked to the ground
Canopy material can be torn if used consistently in a lot of wind
Coleman 10X10 Instant Straight Leg Canopy
As you may know, Coleman has many product models that they dub as 'Instant'. This, as with the above item, means that it can be set up in less than 3 minutes. This is one of these models' selling points, but each of Coleman's canopy models has its own particular charm:
Spans 10×10 feet: As the model name suggests, this canopy spans 10×10 feet. However, the square shade footage is only 100 square feet as opposed to the 13×13 Instant canopy's 169 square feet. The 13×13 canopy's shade footage is much larger because it has extra material extending beyond the edges.
Protects well against sun and rain: This model has Coleman's standard UV Guard technology tied into the material. Also, as you can see from the image, it has extra fabric along the sides of the steel rods. Customers have noted the fact that this has helped them remain completely dry in torrential rains. However, it does not have the extra shade blockage that the shape of the above Coleman 13×13 canopy provides.
Roof vent: The top middle part of the canopy has a vent that allows for better air circulation.
Distinguishing Features:
Extra flaps in the steel poles to protect against rain
Ventilated roof
Negatives:
Not as much relative shape footage as with the 13×13 canopy
Must stake it into the ground or use weighted bags to prevent flyaway
Coleman 10×10 Instant Screened Canopy
Coleman's 10×10 Instant screened canopy is mostly used for different purposes than the regular canopies without the screens. The regular canopies will protect against the sun and the rain. However, the screened canopy will not protect against sun and rain as well, and it is not meant to. However, it will protect against bugs!
Spans 10×10 feet: The screened canopy does span 10×10 feet, but it tapers off at the top. You can stand and walk around in this tent, but there is not as much room to stand upright around the edges as with the other canopies.
Protects against bugs: The Coleman screened canopy will protect against mosquitoes and most of the bugs. However, no-see-ums may still get in, as with most other meshes on the market. For extra bug protection, you can lay some weight or towels along the bottom edges of the tent to prevent them from crawling underneath.
Does not protect against rain: This screened tent was meant to protect against bugs and offers little protection against rain. The only exception is when you are sitting right in the middle of the canopy under the awning.
50+ UV guard protection but only in the middle: The canopy's top offers 50+ UV protection, but only under the shade formed by the awning. The tapered shape means that there will be unprotected areas.
Distinguishing Features:
Negatives:
No vents at the top
Does not protect against sun or rain
Not as much space to walk around as a non-screened 10×10 canopy
Coleman 10×10 Single Swing-Wall Canopy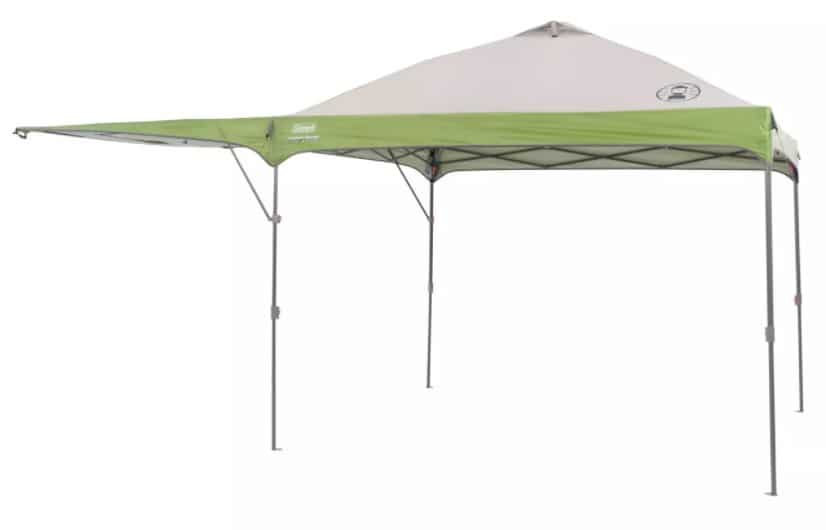 Coleman's 10×10 swing-wall canopy is very similar to Coleman's regular 10×10 canopy. The main difference is that is comes attached to a protective wall that swings up or back down the side. This gives it a lot more shading area than the other canopies.
Sidewall: The swingable sidewall protects against the sun, wind, and rain. It can be turned up to offer more shading area, or turned down to act as a protective wall. This is the main appeal of this particular model. The wall also has a window so that when it's collapsed to the side, you can still see through it.
Distinguishing Features:
Swing wall adds a shaded area and extra wind and rain protection
Negatives:
The swing wall cannot be removed
Coleman 10×10 Instant Canopy with LED Lighting System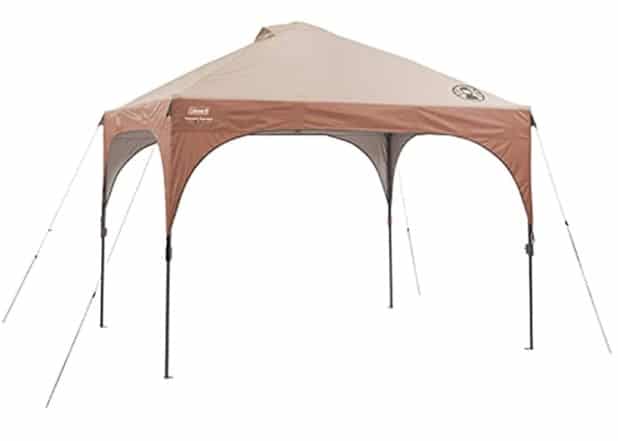 The Coleman 10×10 canopy with LED is built with roughly the same design as the regular 10×10 canopy. The main difference is the fact that it has an LED light built into the roof.
LED lighting system: The LED light inside the roof can be set too high for a lot of light, or to a dimmer setting for ambiance light. It takes 4D batteries, which are not included in the package.
Extra flaps to protect against rain: If you want true protection against rain, you should purchase Coleman's swing-wall canopy. However, the extra flaps on the steel poles provide a bit more protection against the rain than the low-angled canopies, such as the eaved 13×13 instant canopy described above.
Vented roof: Like most of Coleman's canopies, the Instant canopy with LED lighting has a vented roof that allows air to flow through inside. The added benefit to this is that it will help keep the canopy from being blow away.
Distinguishing Features:
Built-in LED lighting system
Flaps on the steel poles for extra rain protection
Negatives:
The LED light mechanism can get wet during periods of heavy rains
Coleman 15×13 Instant Screened Canopy
The Coleman 15×13 screened canopy has similar features to the 10×10 screened canopy above. The main difference is its hexagonal shape and its wider inside area. This canopy's distinctive shape gives it a more appealing look if than most other canopies.
The screen protects against wind and bugs: While the screen will offer some shading, you are better off with another canopy if this is your main concern. The canopy top tapers off and does not provide as much shading area as the others. However, the main advantage to the screen is protected against bugs, such as mosquitoes. An added benefit is that it will also offer some degree of shelter against the wind. But if wind is a concern, the wall-swing canopy may be a better choice.
Side loops for doors: The zippered doors can be attached to the sides of the canopy by using the built-in loops.
Distinguishing Features:
Hexagonal shape for an interesting look
The screen protects against bugs
Negatives:
Does not protect against sun and rain as well as Coleman's other canopies
Coleman 12×12 Instant Canopy
Coleman's 12×12 Instant canopy has the same design as the 10×10 Instant canopy. The main difference is that it has more shaded areas. It does not, however, have the distinctive hexagonal shape of the 13×13 canopy.
Vented roof: This canopy has a vented roof. You can use this canopy to house a BBQ and protect it against the rain.
Extra side flaps: Like some of the other models, this one has extra flaps that add extra protection against moisture.
Please see the 10×10 Instant canopy above for more details on the design.
Distinguishing Features:
Extra side flaps in the steel poles
Vented roof
Negatives:
Needs to be staked down as it may lift with moderate winds
Coleman Instant Canopy Spec Comparison
For a quick overview of what features are included in Coleman's canopy models, see below.

FAQs about Coleman Canopies
Is the Coleman instant canopy waterproof?
All of Coleman's canopies are made from thick and heavy-duty nylon fabric. This type of fabric is water-resistant but not completely waterproof.
How long Does Coleman Canopy last?
Coleman canopies have a 1-year warranty but with proper use and disassembly, these canopies can last you 2-3 years.