Going out in nature in order to take in the view and the sounds is, in and of itself, an act of love. But doing it with your significant other brings it a whole new flavor. Going on a romantic camping getaway with your partner can sometimes be more sweeter than going to the movies or having dinner at a restaurant. You are going back to the basics, taking in what our ancestors were exposed to for thousands of years.
If you are new to this, a little guidance would be in order. Apart from all of the things that make camping as a couple great, there are a few ground rules that need to be followed in order to avoid any major issues. Please see our guide on camping as a couple for some pointers.
Whether it's having a glass of wine by a campfire or cuddling up next to each other in a sleeping bag, below are some romantic camping ideas to help you plan the best romantic camping getaway.
You may like to read:
Choosing the Right Location
Picking the right location for camping as a couple depends on what amount of 'roughing it' do you want to do. Do you find it romantic to get lost in the woods only to find your way back? Do you like the idea of needing to start a campfire in order to cook your dinner? Decide if your partner would like a more comfortable arrangement. If your partner is not used to camping, chances are greater that they will enjoy a campsite with some amenities.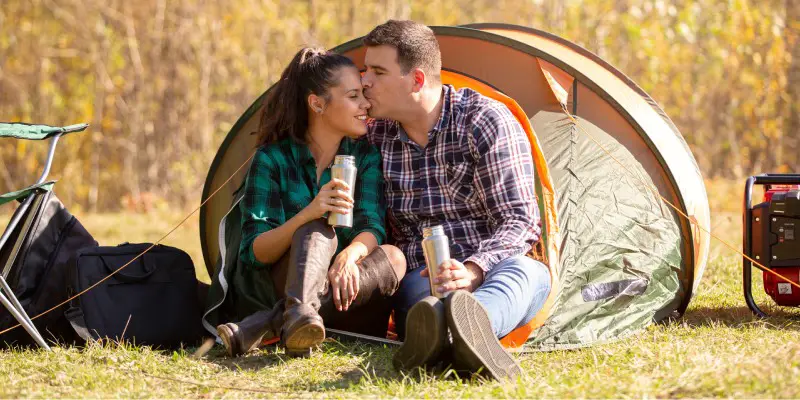 Fun campsites include lavatories and showers. This may or may not be important to your partner. What may be more important is the fact that the campsite is away from other campers. One way to increase your chances of this is to reserve a spot on a weekday or at a time when camping is slightly out of season. However, we would not suggest that you go camping when it is slightly on the cool side. It will get even colder at night and the two of you will be uncomfortable.
Pick a spot by a lake or a running stream. You can either go swimming or set up a camping table with candlelight by a river. Also, the deeper you go into the campground and away from the entrance, the less likely it will be that you will run into other campers.
Romantic Camping Getaway: What to Bring
Apart from the basics of what you need to go camping, there are few extra items that you can bring along in order to make your camping trip that much more romantic. These items will allow you to cuddle better, enhance the atmosphere, and generally have more fun.
Here is the list in no particular order:
Camping table: This is where you will set up your table cloth, candle, and dinner.
Tablecloth: Bring this to cover the camping table during your romantic meals.
Tea light candles in mason jars: This will ensure that the candles remain lit even in a bit of wind.
Wine and wine glasses: Enjoy a glass of wine at the end of the night before going to bed.
Camping chairs: This comes in handy when you want to sit around the camping table by candlelight.
Air mattresses: Air mattresses make camping in any season a lot more comfortable. Make sure you both have one.
Pillows: Bring separate pillows; you don't want to be fighting over who gets the one pillow.
Sleeping bags that zip together: Enjoy a good cuddle at night by sleeping under the same cover.
Camping Stove: Don't depend on your ability to start a campfire. It is much easier to light a fire on a camping stove. This making your cooking experience more enjoyable and stress-free.
Before You Go
Before you leave for the campsite, be sure that you know what activities you will be doing throughout the day. This may involve looking at what is available at the campground you are going to. Look at some hiking maps and see if there are any lakes or rivers you want to visit. At the very least, bring along a board game or some reading material.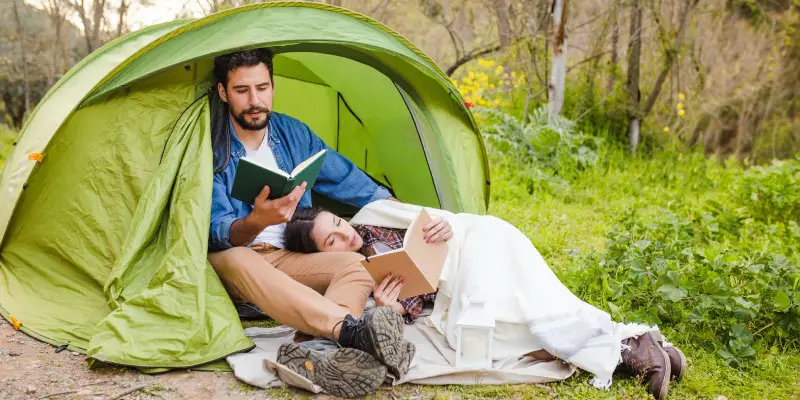 Also, make sure that your tent is free from any holes. Rain seeping through the tent could cause some frustration. Bring adequate rain gear, and make sure you have plenty of toilet paper and garbage bags. In short, plan ahead for the little things.
Where To Go From Here
Camping is what you make of it. Only it is not just you that you need to take into account. If both of you are in agreement as to what activities you will be doing, the location you will be going to, and what items you need to bring, you have secured your romantic trip.
We would like to hear about your ideas for romantic camping. Please leave a comment below and tell us your stories about camping as a couple or tips for planning a romantic camping getaway.